Aereogramme

A Story in White

Matador

Matador has some of the best full-out tuneful indie bands in the business with acts like Yo La Tengo, Jon Spencer Blues Explosion, Stephen Malkmus and Belle and Sebastian. But for those of us who kept up, there were always the weirdo acts that somehow snuck in. Thinking Fellers Local 282, Sports Guitar, 18th Dye, to name a few; bands that were more avant-garde than pop but that had just enough pop elements to carry them through (18th Dye, for example, put out some of the most interesting stripped-down rock albums you've never heard). Aereogramme is right at home with the weirdos, mixing their quirky, noisy, metal soundscapes with quiet, delicate melodies.

"Zionist Timing" is a full-out noise rock masterpiece in line with Sonic Youth, latter-day Nine Inch Nails or, yes, 18th Dye. The three minutes of "Shouting for Joey," is divided between metal guitar, heavy drums and full-on indecipherable screaming and a light-as-a-feather acoustic interlude played over eerie industrial sounds.

For every weird one, there's a real beauty, like the stunningly ethereal "Hatred," that chimes forward on the strength of simple guitar, piano and Craig B's high-register, haunting vocals that border on praying: "Hatred is rising but I hope that Iím stronger than this." "Sunday 3:52," is somber cello, violin, acoustic guitar and a simple melody. The lyrics, especially on the quiet numbers, seem to be all about longing but could just as well be about recovery -- of the emotional or chemical kind.

At over an hour, A Story in White is both jarring and serene; haphazard on the surface, but beneath, there's a method to the madness.
---
back to

Posted Jan. 30, 2002. Copyright © 2002 Tim McMahan. All rights reserved.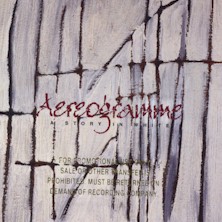 | | |
| --- | --- |
| | Rating: Yes |
| | Obligatory pull-quote: "Both jarring and serene; haphazard on the surface, but beneath, there's a method to the madness." |