Centro-matic

All the Falsest Hearts Can Try

Quality Park Records

Imagine Robert Pollard backed by Crazy Horse, or Son Volt sharing recording sessions with Archers of Loaf, or The Grifters bio-merged with The Silos and you begin to get where Centro-matic is coming from. Easily the most satisfying full-out rock album I've heard this year, this gritty, southern fuzz-guitar opus drips with lo-fi Rust Never Sleeps feedback layered like molasses over vista-wide stretches of open dirt road. Each track has a rawness that is bracing with textural beauty. Translated: It's as brutal as riding in the payload of a '72 Ford pick-up across a mesquite field on the way to your grandma's funeral. Some might call it alt-country, which would be a mistake since it sports zero hoedown potential. When these Denton, Texas boys slow it down for a couple heartfelt ditties you'll be reminded of Harvest, right down to Will Johnson's quivering, Young-ian vocals. The best thing to come out of Texas since the cattle prod.
---
back to

Published in The Omaha Weekly Aug. 24, 2000. Copyright © 2000 Tim McMahan. All rights reserved.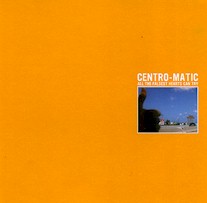 Rating: Yes