Gimme Indie Rock

various artists

K-Tel


Since when did K-Tel -- the record label that's brought us all those late-night oldies compilations -- get so cool? And why hasn't someone thought of this before?

The quality of this 2-CD, 30-song compilation of pre-Nirvana indie rock is reflected simply in the artists represented: Husker Du, Dinosaur, Jr., My Dad Is Dead, The Wedding Present, The Chills, The Fall, Pussy Galore, Mudhoney, Half Japanese, Big Dipper, Nikki Sudden, Eleventh Dream Day, Giant Sand, The Meat Puppets, Scrawl. And that's just the stuff on the first CD.

The majority of the tracks come from the mid- to late-'80s (Husker Du's "Pink Turns to Blue" appears to be the oldest, released in 1984), and for those who were were lucky enough to have access to it (by having a cool friend who turned you onto the music, because the radio sure wasn't playing anything this good), it's a real walk down memory lane.

CD-1 seems much more focused on the hard stuff, whereas CD-2 blends in a few of the more mellow indie outfits. The CD-2 lineup: The Feelies, Yo La Tengo, The Wipers, Squirrel Bait, The Minutemen, Savage Republic, The Mekons, Galaxie 500, Spacemen 3, The Flaming Lips, The Melvins, Black Flag, Death of Samantha, The Pastels and The Vaselines.

Obviously the comp includes personal favorites by its co-producer, Scott Becker, founder/publisher of Option Magazine. I mean, who ever heard of The Pastels or Savage Republic? And, of course, missing are some of the most definitive bands of the pre-Nirvana era, such as Sonic Youth, The Replacements, R.E.M., X, Flipper, Pylon, Butthole Surfers, Pere Ubu, Camper Van Beethoven, and Wire, to name a few. We can only hope that K-Tel is holding back for vol. II.

Regardless of the nits, you'd be hard-pressed to find a better mix without making your own, or a better introduction to a genre of rock that helped forge today's college indie sound.
---
back to

Copyright © 2000 Tim McMahan. All rights reserved. Published in The Omaha Weekly May 11, 2000.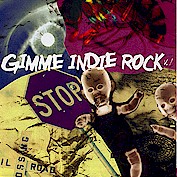 Rating: Yes