The Gloria Record


Start Here


The Arena Rock Recording Company

The Gloria Record was formed in '97 out of the remains of what arguably was one of the more influential late-'90s indie projects, a band called Mineral. They released a couple records on Crank! before this full-length, which is quite a departure from their rather subdued EPs. Interviewed last year when the band was recording the tracks at Lincoln, Nebraska's Presto! Studios with engineer/producer Mike Mogis (Bright Eyes), bassist Jeremy Gomez said the CD was "basically made up of 10 epic closers."

That's not a bad description. Start Here takes withdrawn indie pop and builds it to massive proportions, melding momentous and oftentimes plodding melodies with gigantic arrangements that make you remember Chuck Heston as Moses parting the Red Sea. If forced to compare it to anything, Elliott comes to mind as well as (he says with a straight face) Cave In -- two bands that have been known to try to create a sense of imposing apocalypse with guitars and keyboards. Guitarist/vocalist Chris Simpson's earnest, yearning moans bare a slight resemblance both in style and substance to Toad the Wet Sprocket's Glen Phillips, though most of the time, what he's singing is undecipherable.

The melodies are universally pretty, almost always starting small, accompanied only by a keyboard or guitar, before building over the course of six or seven minutes to a juggernaut in ideal "epic closer" fashion. The perfect example is "I Was Born in Omaha," where Simpson sings, "I was born in Omaha / In my mother's tired arms" (Those are the only words I can make out through the mumbling, and there's no lyric sheet). The song starts with a simple acoustic guitar then about halfway through its seven minutes a huge counter-melody is introduced on electric guitar -- very cool, and reminds me a little bit of how Red House Painters builds their epics.

Can the band sustain it over 50 minutes? Almost. By track seven the ambient sheen begins to wear thin, and you begin to yearn for just one strong melody that you could sing along to. Look elsewhere. Like an orchestral score, Start Here is all about setting a mood, bringing you to the top of a mountain over and over again.
---
back to

Posted May 8, 2002. Copyright © 2002 Tim McMahan. All rights reserved.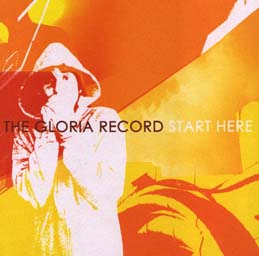 | | |
| --- | --- |
| | Rating: Yes |
| | Obligatory pull-quote: "Start Here takes withdrawn indie pop and builds it to massive proportions, melding momentous and oftentimes plodding melodies with gigantic arrangements that make you remember Chuck Heston as Moses parting the Red Sea." |
| | |