The Lepers / The Quiet Type / Fromanhole
Jan. 24, 2003
Sokol Underground
So, the Lepers… last night at the Sokol Underground. We're they all that I hoped for? Yes and no. Having only had a taste of their live act at the Jesus Christ Superstar Live benefit a couple weeks ago, I perhaps built up too high of expectations. I mean, the cover of "The Temple" that they had performed at JCSS -- and more importantly, their arrangement of that cover -- epitomized everything that I love about their most recent Caulfield Records release, The Love from Above. It was an experiment in dynamics, pace and tension, just like the best tracks from their CD.
So I was a bit disappointed with their set last night. Yes, they played well. Drummer Ken Brock showed why he's one of the region's best behind a drum kit, and Owen Cleasby's guitar and vocals were spot on. Missing, however, was that epic, end-of-the-world quality that I so dearly wanted. I was expecting songs to grow gradually over 10 minutes, from quiet to loud to explosive. In fact, most songs had an intro, then Brock came in, and Cleasby turned it up for four or five minutes. Not bad, but I wanted more drama. A couple numbers delivered just what I was looking for, one in particular that felt like a duel of bravado between Brock in Cleasby, sort of a challenge to see who could go harder and faster. It was all enough to keep the crowd of just under 100 transfixed for their entire set, wondering how a drum-and-guitar duo could make such a huge sound.
The headliners of the night were The Quiet Type and Fromanhole, who were celebrating the release of a split 7-inch. This also was the first time I'd seen The Quiet Type's entire set. I admit now that I had them pegged all wrong in a story I wrote a month or so ago -- actually, it's not all my fault. I had said that they were at the forefront of Omaha's neu-prog movement and judging by the recordings that drummer/vocalist Oliver Morgan had passed me, I was right. But live, well, the band knows when to roll off the prog/art tip and stretch out long rock mantras. Their opening number felt like an Eno/Fripp head-orgy, centered around a 5 or 6-note line that was repeated over and over, starting with keyboard and bass then adding guitar before Morgan tried to dismember his kit, always with a look of orgasmic joy on his face, proving that he's another of the region's best drummers. Instrumentally, The Quiet Type is about as tight as it gets -- it's fun to watch Megan, Oliver's wife and keyboardist, intently concentrate on the rhythm section, watching for the cues in this ornately complicated music. The vocals are the obvious clink in the armor. Morgan, already occupied behind the kit, is the best of the three, while the other two guys warbled at time. The vocals are more like aggressive, controlled yelling, so when they sound out of control, it can put the rest of the arrangements in a spin. Since range isn't an issue, this problem can be solved with practice, focus and lots of playback -- and while listening to a playback, band members can't be bashful with their criticism. It's the only way these vocals are going to improve.
The closers, Fromanhole, got the short shrift, from me anyway (apologies to Her Flyaway Manner, who opened the show. I was late due to a mix-up by the Dundee Theater, which screwed up and underestimated the running length of "Nicholas Nickleby," causing me to be an hour late to the show). Fromanhole didn't start playing until around 12:40, and their first song (the only one I stayed for) was seven or eight minutes long. I don't known if they had a chance to play more than three songs, because the Sokol can be rather disciplined with the 1 p.m. cut-off time (I've seen them turn the lights on during a Good Life set). What I can tell you is that the trio continues to get tighter and tighter, performing some of the most intricate, difficult art/math rock by any band I've heard either locally or nationally. Their breaks and change-ups could not be any tighter -- a prerequisite for their style of music to be effective.
A quick note about the sound -- the last three shows I've seen at the Sokol Underground have all been superior. One Percent Productions says they've found their sound guy who will work their shows from now on. Whoever he is, he seems to understand the limitations and strengths of the venue, sound system and bands and adjusts accordingly.
---
back to

Posted Jan. 24, 2003. Copyright © 2003 Tim McMahan. All rights reserved.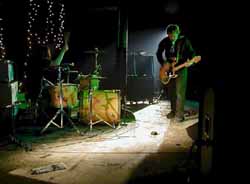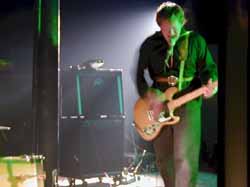 ---

Missing was that epic, end-of-the-world quality that I so dearly wanted.

---