Mary Lou Lord
Jan. 23, 2003
Sokol Underground
Mary Lou Lord just happened to pick one of the coldest nights of the year to play in Omaha. So as an added bonus, she started her set with a pitch for the crocheted hats that she's apparently now making either as a hobby or a side business. The hat looks like a gray, chenille, cat-girl costume, with little horns and two long tassels that fall on either side, sort of like those hippy snowboard caps that you might see at a Phish concert.
More about the caps later.
About 50 people braved the below-zero chill for the show, which also featured Matt Whipkey and Lord tourmate Adam Goldman. Devon Baker opened the evening, but I missed her set. In fact, I only caught the last half of Whipkey's -- the "electric" half, apparently. The highlight was a solid cover of Springsteen's "I'm on Fire." Goldman played a handful of quiet acoustic numbers, mostly original songs which were pleasant and unmemorable.
Then came Mary Lou, wearing her fuzzy cat-hat. She said she'd just made one for Janeane Garofalo, and that the one she was wearing was destined for Kelly Osborne's head. It would get there via her old friend, Sean Tillmann (a.k.a. Har Mar Superstar), who Lord was scheduled to play with the next night in Minneapolis. Lord said that, much to her surprise, Tillmann had written some songs for Osbournes' latest CD and had accompanied her to the VMAs (and that Tillmann was now writing some songs for J-Lo -- I don't know if she was being serious or not).
Lord's set included a selection of her own material mixed with covers, many from her latest Live City Sounds CD. For one number (a Nick Saloman song called "She Had You" which appears on Got No Shadow) Lord picked up Whipkey's electric guitar and did her best Crazy Horse impersonation, saying it was the first time she'd ever played an electric during a performance. It sounded great, but she quickly switching back to her beat-up acoustic for the next number and the rest of the night.
The quiet, well-behaved crowd sat at tables throughout the Underground, politely clapping after every number and laughing along with Lord's between-song stories. At one point, she commented on the crowd's silence, saying she felt like Jan Brady in the episode of The Brady Bunch where Jan is on a TV quiz show, being asked to name the capitals of states, scared silent, staring at the flashing red "on air" light atop the TV camera (while, off camera, in a hushed voice: "Jan, it's Baton Rouge!"). It was a low-key evening, and afterward, Lord apologized for "the bumpy ride," saying she was still getting used to performing after her long layoff. I told her she sounded great to me, but she just smiled and adjusted her cat hat.
---
back to

Posted Jan. 23, 2003. Copyright © 2003 Tim McMahan. All rights reserved.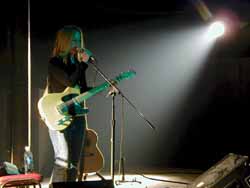 ---

It was a low-key evening, and afterward, Lord apologized for "the bumpy ride," saying she was still getting used to performing after her long layoff.

---