The Warlocks / Little Brazil
March 21, 2003
Sokol Underground
I went to a rock concert last night.
Me and about 45 others, that is. And at least a dozen or so left before it was over, maybe because it wasn't indie enough or avant gard enough for their tastes. Whatever. It didn't matter, at least to the remaining handful, lost in a fog of chocolate smoke and feedback. One guy put it this way: It'll be remembered as a you-were-there concert, like last year's Smog show witnessed by only about 75 of us.
I expected to see the shortest set in history. Here was this 7-piece band who had just made it to town, almost canceling because of the Denver blizzard, looking out from the side of the stage before their set at Little Brazil and the few dozen patrons who showed up. When Little Brazil ended (and I'll get to their set in a few moments), The Warlocks took to the stage like a crack military unit, putting together their weapons of mass destruction as if they were being timed. I figured they wanted to get on, get off and get the hell out of there.
I couldn't have been more wrong. The fog machine started about five minutes before the band -- pushing smoke off the stage and into the audience. Then on they came -- a guitarist and bassist stage left (the guitarist, a feedback maestro), a tambourine girl/keyboardist and another guitarist stage right, all surrounding their long-haired guitarist/vocalist/leader, Bobby Hecksher, standing stage dead-center in the dark, while behind them two drummers sat side-by-side working like mechanics behind their sets. All's you could really see was red fog, the silhouettes of drummers moving in unison, tambourine girl's flared hips, the psychedelic grease lights on the ceiling and the occasional strobe blazing from behind posed axemen.
What you could hear was a solid wall of guitars pounding out songs based on repeated, simple riffs that built over the course of five to 10 minutes per. Consider them a mix of Velvet Underground, My Bloody Valentine, Spiritualized, Jesus and Mary Chain, Mercury Rev and your favorite stoner rock band all rolled up in into one king-kong sized sound, playing as if they were in front of a sold-out crowd at Hammersmith Odeon instead of on a plywood stage in the basement of a South Omaha dancehall for a few dozen onlookers who became fanatics before they were through.
The set lasted until 1 a.m., then the band came back on stage and played a two-song encore, with Hecksher looking genuinely touched by the crowd response. Two rocker girls added to the festivities, one yelling, "Play one more song and no one gets hurt." When the lights came up, I was a bit dazed, and stumbled around asking people if I just saw what I think I just saw. Judging by the stoned glances, everyone was a little bit freaked by the whole thing. These guys can't do this every night -- it would kill them.
I can see why Interpol has chosen The Warlocks to open on two of their tours. They're music is a perfect compliment to Interpol's almost static-hum-minimalism no wave. It wasn't for everyone. You either got into the throb or you didn't. I did. and for me, it was among the best shows I've seen so far in a year that, only three months' old, has been filled with great shows.
As for Little Brazil -- I got there late, thanks to the Maryland Terrapins. But I saw the last three songs, which were enough for me to declare Landon Hedges and Co. to be one of the best upcoming pop-punk-emo bands now going. The music was pure bash and crash, but Hedges knows his melodies, both on guitar and in his angry-little-man vocals. When is their next show?
---
back to

Posted March 22, 2003. Copyright © 2003 Tim McMahan. All rights reserved.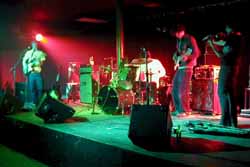 Little Brazil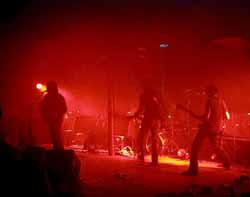 The Warlocks
---

When the lights came up, I was a bit dazed, and stumbled around asking people if I just saw what I think I just saw.

---