Yo La Tengo
And then nothing turned itself inside-out
Matador
Even in their most sonically distorted and bracing moments of yesteryear, Yo La Tengo always has been about the quiet drone underneath, the warm amped acoustic guitar, the reedy Moog, the rumbling light-touch tribal drums and Ira Kaplan's shy, sweet-boy vocals. This time they take everything down a few notches, creating the ultimate soundtrack to every midnight moment you've spent wide awake, driving home alone at 2 a.m. after the party, neither depressed nor elated, just content watching the striped highway line go on and on and on.
Yo La Tengo plays music that is both lonely and sexy. These are strung-out jams lost in rhythms and pulses, dark-blue radiance and subtle cymbal-shimmers.
Rarely has this band focused so tightly on creating such an utterly tranquil mood. It's not all soothing moments, however. "Cherry Chapstick" is drowning in distortion, while the organ-driven "Let's Save Tony Orlando's House," thumps along just fine with Georgia Hubley laying down "The Girl from Ipanema"-style vocals. The summery shuffle of "Madeline" sounds like futuristic lounge music, its backing ba-dee-da's slipped in underneath feel like slightly sedated Esquivel. The instrumental "Tired Hippo" is all secret agent bosso-lounge, thanks to James McNew's thrum-pulse bass, some trippy organ and the ultimate spy-guitar. Their cover of George McRae's "You Can Have it All," takes disco and turns it into flat-black lounge-soul, with Hubley coming off sugar sweet on a song that's already pretty damn tasty.
The rest of the CD is dreamy, sleepy, sedated soundscapes, layering quiet organ, simple rhythm guitars and light, echoing drums. Call it ethereal. And no more so than on the 17:41-minute "Night Falls on Hoboken," which is one long journey into thick, warm-blue goo. Throughout, the lyrics are as fragile and airy as the music. "The Last Days of Disco" is Kaplan coyly singing, "And the song said let's be happy/And I was happy". You tend to forget that they're lyrics and not just another vehicle to emit a tone, shade or delicate accent on an already densely layered soundscape. In other words, they rarely distract.
The last time I heard anything capture a mood quite this perfectly was the Cowboy Junkies' first album. But that one was a downer, while And Then nothing turned itself inside-out fills you with wonder, hope and a bit of mystery, as it leads you comfortably by the hand through the darkness.
---
back to

Originally published in The Omaha Weekly, April 20, 2000. Copyright © 2000 Tim McMahan. All rights reserved.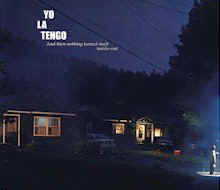 Rating: Yes