But their geographic separation had nothing to do with their lack of record productivity. The band's heyday began in the mid-'80s with a string of critically lauded records starting with their 1986 debut Love & Hope & Sex & Dreams, produced by twang legend T Bone Burnett. That was followed a year later by Outside Looking In, produced by Talking Heads member and fellow Wisconsonian Jerry Harrison. The BoDeans were quickly touted as the "Best New American Band" by Rolling Stone magazine as they headed out on tour with the likes of U2. Record collectors who organized their albums by genre placed their BoDeans discs right next to stuff by other roots hitmakers of the day like The Long Ryders, The Del Fuegos, Los Lobos and Spanic Boys.
The duo kept the ball rolling in the '90s, releasing four albums on Slash/Reprise, concluding with 1996's Blend. "After that, Reprise didn't renew our contract," Llanas said. "It was a good time to do our solo records. By '99 we had recorded the demos that would become Resolution. That's when we had trouble with our management. They didn't like our idea of recording the CD ourselves and shopping it around to labels. That's when we split with them."
Though they had been with Reprise since their debut, Llanas said shopping the CD around was a painless process. They sent it to 30 or 40 labels. Rounder/Zoe had a track record that the duo were looking for, Llanas said, and ended up releasing Resolution in June.
"When you're on a major label, there's a lot of pressure to have a big hit and make a slick record," he said. "We tried that a couple times and it didn't work for us. We said, 'Let's do what we do, and people who like it will like it; and those who don't, never will.'"
Produced at Neumann's Slamshack studio near Austin, Resolution continues in the same, homespun BoDeans' style characterized by its tight harmonies on songs that combine a hint of country with a large helping of rock. It's warm, easy-going music, with themes that rarely stray from the topics of love and dreams.
"We've always stuck to very simple music," Llanas said. "Real music about real people. It's not trendy. We're just a bunch of guys playing instruments, not virtuosos. But we really like what we do and that's the contagious part of our sound."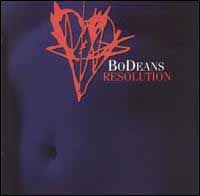 ---

"We really like what we do and that's the contagious part of our sound."

---