But first, the hiatus. From the vantage point of anyone following the band, it looked like Cursive was on the verge of breaking through to wide-scale rock-star status in the summer of '04. In the wake of the critical and commercial success of their CD, The Ugly Organ, the band had been hand-selected by Robert Smith to open arena-sized shows for The Cure.

Then to everyone's surprise, Cursive unplugged their instruments and walked away. It was called a hiatus with no fixed return date. As Kasher's other band, The Good Life, began a winter tour, thoughts began surfacing that the hiatus was permanent, even among members of Cursive. "I think in order for us to come back from it with true enthusiasm, we had to be comfortable with the idea of not coming back at all," said Maginn. "Even though it was never discussed, there was the possibility that the break would be permanent."

Maginn made the most of the time off. He stayed busy at Creek, working through details of the simultaneous release of two Bright Eyes records. He and drummer Clint Schnase took on the rhythm chores for Bright Eyes' Vote for Change tour -- you know, the one that featured an artist known as "The Boss." Maginn also lent a hand in the studio for guitarist Ted Stevens' other project, Mayday.

"I enjoyed my time off, everyone did," Maginn said, "but toward the end of spring (of '05) I was getting antsy. We realized we wanted to do it again, but this time have more fun doing it. We'd been burned out. We figured we would try to not let touring rule our life as much, and also work on the 'wish list' of things we always meant to do but never had time to."

First on the list was "playing parties or something small," Maginn said. In early September, the band announced on cursivearmy.com that fans should watch out for bands Flippy and Hambone, T Lite & the Heavies, Jazz Hessian, Cursifix, Stuffy Dumbf***, and Sgt. Snippy, adding "Oh boy, if you like seeing Cursive you should really see these shows." They augmented that with an e-mail sent via their mailing list telling fans about the "secret shows." In the end, most of them sold out.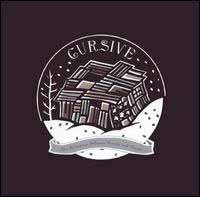 ---

"I think in order for us to come back from it with true enthusiasm, we had to be comfortable with the idea of not coming back at all."

---