"Drugs? No," replied Pink Mountains frontman Stephen McBean from a highway somewhere between San Francisco and L.A. "It's one of those things. You go through stages in life when you experiment with certain substances. You think it's helping maybe alter you in some way. But it's not the drugs. We wouldn't be able to go on the road for three months if we all were laid down by that stuff."

Hey man, I didn't mean you were doing drugs right now. I meant when you recorded the album, which pulses like a black-light lava lamp inside a stoner's soot-covered conversion van. Track "New Drug Queens" is propelled by a drum machine and a guitar tone that's pure '60s psychedelia. McBean's fuzz-distorted voice sings "Like a rolling stone / I'm not feeling this score / Oh le petite problems." The 8-plus-minute "Slaves" is a tribal lullaby straight off the reservation, with glowing organ, feedback guitar and McBean wailing to his Queen Bee to "come clean." Then there's the album's centerpiece, "Lord, Let Us Shine," an infectious chug-a-lug rocker with shotgun guitar aimed right between your eyes. McBean testifies to his Lord "We've been singing with Jesus in your house of love / We've been sending dead flowers to the devil's son."

Dude, it sounds pretty trippy to me, but trippy in a good way, you know what I mean?

"There's a certain stereotype about getting spaced out or whatever," McBean said. "It's just the music we enjoy and try to create together. Sometimes drugs are there, sometimes they're not. It's not an influencing factor in what we want to create. A lot of bands get lumped into the psychedelic thing that really, a lot of the time, have nothing to do with drugs. It's the way people choose to expand their music or whatever they're doing."

McBean's been expanding his music by being in two bands simultaneously. The Vancouver native got started in the late '90s as Jerk With in Bomb, which evolved into Black Mountain, a second McBean-led band that records on Jagjaguwar. It leans even closer to stoner rock territory. Pink Mountaintops, on the other hand, is more stripped-down and low-fi.

McBean is traveling with six other musicians on this tour, so expect a big, fuzzy sound when they coast into Sokol Underground March 23. "We gonna be gone for three months on this tour," he said. "You've got to mentally prepare to be trapped in a van for that long. We're still a few weeks from Omaha, so things will probably change up along the way. We'll try new things, keep things fresh. Maybe we'll all be wearing funny hats by then."

---
Back to

Published in The Omaha Reader March 13, 2006. Copyright © 2006 Tim McMahan. All rights reserved.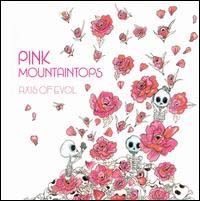 ---

"But it's not the drugs. We wouldn't be able to go on the road for three months if we all were laid down by that stuff."

---