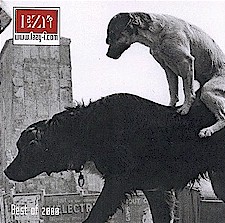 Best of 2000 CD, Liner Notes
Well, if you're reading this, then you've 1) received a copy of the 2000 year in review tape, and 2) found my website. This will give you a run-down of the tracks, the artists, and where to find the music.
I do this every year (except in '96, when I wasn't writing music reviews) as a recap of all the best music I've had a chance to hear. Most come from review copies of CDs received in the mail for review on www.Lazy-i.com or The Omaha Weekly. Blah, blah, blah...
The story behind this year's tape case design: I came across these photos in a book I bought Teresa for Christmas called A Thousand Hounds: The Presence of the Dog in the History of Photography 1839 to Today. The cover photo of one dog riding another was rather severely cropped. In the original photo, you could tell that the black dog was walking a tightrope while onlookers gawked in amazement. I have no idea why the people on the back-shell and CD photo are carrying dogs. World-class designer Donovan Beery took the photos, logo and text and came up with the design.
As always, the music is almost entirely alternative rock, which is what I listen to. None of it is played on the radio in Omaha or on MTV. And like last year, there seems to be a preponderance of slower numbers rather than faster, rockin' tunes -- who knows why except that most of the fast stuff that makes it to market these days seems to be derivative of early punk or metal and is quite boring. The slower, heavier stuff seems more interesting to me these days. I realize you won't like all the music (actually, you may not like any of it), but maybe there'll be a few tracks you'll enjoy, even a few that might entice you to buy a CD or two.
Anyway, here's a rundown of the songs, the artists and maybe a story to go along with them...
Wheat -- "Flat Black" from the Holiday Matinee CD Compilation Vol. 2. Holiday Matinee is a publicity firm for indie bands. They used to represent Saddle Creek Records artists, but no more it seems. Apparently the break between Saddle Creek and Holiday came after this CD was released, as just about the entire Saddle Creek stable has a song on it. This is the second time I've included a Wheat song on my annual comp, yet I've never heard an entire Wheat CD. Maybe it's time I buy one.
Sunday's Best -- "White, Picket Fences" from the album Poised to Break on Polyvinyl Records. This is the best pop indie release from 2000, hands down. These guys could break big on the radio if they could shake loose their indie clothing, which ain't likely. The entire CD is a pleasure like eating hand-made candy.
Yo La Tengo -- "You Can Have It All" from the CD And Then Nothing Turned Itself Inside Out on Matador. This is apparently a cover of a George McRae disco song, which I've never heard. The entire CD is great, but is extremely moody and not at all danceable, like this track. It's reviewed here.
Bright Eyes -- "Haligh, Haligh, A Lie, Haligh" from Fevers and Mirrors on Saddle Creek Records. Bright Eyes is Conor Oberst, an Omaha guy who's become the darling of the indie-folk-emo world this past year. I had the opportunity to interview him right after the CD came out -- it was probably the best interview I did last year. He was rather candid, probably because I've interviewed him before. I nice, quiet chap. You can read the interview here. If you like this track, you'll likely enjoy the entire CD, though it can be rather depressing at times.
Centro-Matic -- "Huge in Every City" from All the Falsest Hearts Can Try on Quality Park Records. A fantastic record, it'll be enjoyed especially by those who like Neil Young and Silkworm. These guys are from Denton, Texas, which I guess is boiling over with talent these days. The CD is reviewed here.
Silkworm -- "Slave Wages" from Lifestyle on Touch and Go Records. Very much in the tradition of other Silkworm CDs, but even catchier. These guys used to be on Matador, when their music was rather droll and depressing. No more. I almost excised this from the lineup because the signal is weaker than the other tracks on the comp, but decided to keep it in and I'm happy I did.
The Feelies -- "Slipping Into Something" taken from K-Tel's Gimme Indie Rock comp. The song is actually almost 20 years old, but the comp came out in 2000 so I included it because I hadn't heard this particular Feelies' track before. They're one of my all-time favorite bands and, I think, are one of the most influential on today's scene. The K-Tel comp is the perfect primer for anyone searching for an introduction to '80s indie music; the CD is reviewed here.
Dismemberment Plan -- "You Are Invited" from Emergency & I on DeSoto Records. The CD actually came out in late '99, but the band didn't make it to Omaha until March 2000, when I had a chance to interview and see them perform at the Sokol Underground. They were incredibly hot property at the beginning of 2000, and then like everything else, interest waned. I want to like this band more than I actually do, though there's always at least a couple great tracks on every one of their CDs. You can read the interview here.
Deathcab for Cutie -- "The Employment Pages" from We Have the Facts and We're Voting Yes on Barsuk Records. Another band that made it to Omaha last spring, and I did interview them but never placed the interview online (because it was kind of lame). Another terrific overall CD -- if you like this track, you'll like the whole thing. A review is here.
The Good Life -- "A Dim Entrance" from Novena on a Nocturn released on Better Looking Records. This is the best CD released by an Omaha band last year. The lead singer is Tim Kasher, who also heads up another popular Omaha band, Cursive, who also had a new CD out last year.
Applesaucer -- "Angeline" from their eponymous release on Toadophile. This is a Bay Area band that doesn't tour much. They should. Their sound would probably be universally appealing. Here's a review of their CD. Good luck finding a copy anywhere.
Fairgrove -- "If You Were the Landscape" from In Defense of the Inexperienced on Montesano Records, a brand-spanking new label. I thought the sentiment was particularly good on this song. Very nice CD, though perhaps a bit too mellow? Another review here.
Pedro the Lion -- "Never Leave a Job Half Done" from Winners Never Quit, released on Jade Tree. A fairly incredible concept album, especially when you come to realize that it's Christian rock. You'd never tell from the lyrics. The band's lead singer/songwriter, David Bazan, talked about it extensively in an interview we did before a Sokol Underground show last summer. An interesting cat, and a terrific interview.
Aimee Mann -- "I've Had It" is actually a fairly old song. Mann broke big this year with the Magnolia soundtrack (one of the best CDs from last year; buy it if you don't have it) and positioned herself as the last great hope for women singer/songwriters in the post-Lilith Fair era. This track comes from1995's Rare on Air Vol. 2, live sessions from Santa Monica's KCRW's Morning Becomes Eclectic series.
Fizzle Like a Flood -- "Believe in Being Barefoot" from the self-released Golden Sand and the Grandstand. The CD is a concept album about AKsarben. A remarkable achievement from one guy who plays and records his CDs in his bedroom. Here's an interview I did with him just last fall.
Gomez -- "Getting Better" from Abandoned Shopping Trolley Hotline, released on Virgin. Yes, this is the Beatles remake that used to be used in the Phillips lightbulb commercials, but which was replaced by a ridiculously lame new version this year. Why they quit using the Gomez version is probably a question for the lawyers. The band decided to release it on a B-side collection this year after their version became hugely popular overseas. Gomez is sort of a British jam band, very tuneful and very British sing-songy stuff.
The Explosion -- "The Ideal" from Flash Flash Flash, released by Jade Tree. This is the best punk-style CD I've heard in about five years. It's obviously derivative of the original stuff, but still enjoyable without being insulting, like so many pseudo-punk bands played on the radio these days. A review is here.
Well, that about does it. Thanks for reading and listening. While you're on the 'net, you might as well check out the rest of my website, which used to be named Lazyeye but which I'm changing over to www.lazy-i.com because I got the URL. I update it just about every week, so check back often. Ifn' you feel like commenting on the tape or the webpage, e-mail me at Tim@timmcmahan.com. See ya.
-- Tim McMahan