Help Wanted Nights

"Its very simplicity is a lesson that his pal and label mate Conor Oberst could benefit from."

Lynn Teeter Flower

"...While the debut (11:11) was a strong beginning, this one takes her closer to where she's headed, but doesn't quite get there, probably because she still can't quite let go of her sepia-toned past."

To the Races

"Bachmann's songs, as stark and aching as they may be, are nothing less than purely gorgeous, like all his friends up in the sky."

Aw Come Aw Wry

Body of Song

Patience and Science

Sincere Recording Co. Presents Simone White

various artists

Unconscious Pilot

Here Comes Everyone

Together We're Heavy

Pick It Up

Whatever Happened to P.J. Soles?

Per Second... Every Second

Blue Cathedral

Wild Like Chidren

Good News for People Who Love Bad News

Lovers need Lawyers

White Noise

zalig zijn de armen van geest

Last Dance on the Wild Frontier

Ruhr

Born Free

Method: fail, Repeat...

Flashes and Cables EP

Desert Farmers

Leave Your Name

Up Up Down Down Left Right Left Right B A Start

Perris, CA


It's Never Enough, Is It?

s/t

Love and Affliction

Best of...

Leave Me Out of This

War Prayers

Every Famous Last Word

self-titled

Recovered

A People's History of
The Dismemberment Plan

various artists

Through the Fog, Through the Pines

Cole

Hold On Love

Reality

Redhead
Just another reviews page?
Probably... except that we try to review the typical and not-so-typical (and just about anything else you can think of). The emphasis is on Indie, but who knows what will pass through this page? I sure don't...
The rating system is irresistibly simple. Recordings will be rated with a simple yes or no. You be the judge of what it means.
Watch this page for new reviews. Most have appeared in The Omaha Reader.

Keep up with received, reviewed and not-reviewed CDs at the Review Matrix -- all received CDs are checked-in and checked out.
Attn.: bands, labels, promoters: Send promotional materials (CDs, one-sheets, demos, etc.) to:
Tim McMahan
www.lazy-i.com

split EP

Prototype

The Jerks Win Again

Addiction

Dead by Dawn

self-titled

I Give You Canoe!

The Dirt Tier

Angular

Topekamericana

Kismet

XO EP

Happy Songs for Happy People

Onward + Upward

There's This Girl

I Know Your Troubles Been Long

Vocabulary

Good Mourning

Rebuilding Season

Being Ridden

s/t ep

various artists

Attention! Blah Blah Blah

Expecting the Explosion

Ribbons & Sugar

Electric Version

Inner Onwriter

A Tribute to Journey

Ringodom Or Proctor demo

Words Never Said Again

s/t

Coalesced

Recorded

From a Window Way Above

I, Assassin / Warriors

Lazy-i Best of 2002 Compilation

Body Double

East to West

Nice International

Sarah Veladora

Put Your Gloves on and Wave

Lisboa / Kid Brother Collective

split EP

self-titled EP

Repeat Pete Repete

Sweets from the Minibar

Wonderful Educated Bear

Homemade Drugs

The Love from Above

various artists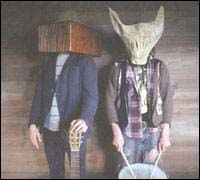 Two Gallants
Rating: Yes
There's a knock on Two Gallants, it's that all their music sounds the same.
It's an easy, lazy statement to make. It's also easy to prove. Take someone who's never heard the band before and play a typical track from The Throes, their 2004 debut on Alive Records. Follow that with a song from Where the Toll Tells, their 2006 Saddle Creek Records debut, and one from this, their new eponymously titled follow-up. Now ask your test subject how the three vary musically and lyrically. First, they'll assume they all came from the same album; next they'll ask (eagerly) if all their songs sound like this. The answer, of course, is yes.

Like I said, it's an easy knock, and it's not fair, really. Two Gallants, the San Francisco duo of singer/guitarist Adam Stephens and drummer Tyson Vogel, have crafted a unique sound that feels like a cross between '60s blues-rock, "The House of the Rising Sun" and modern-day pirate songs. Stephens' craggy voice and rolling, picking' electric guitar bend the music over Vogel's bright, almost militaristic syncopated marching-band percussion. The result is a slice of turn-of-the-(20th)-Century Americana merged with Delta blues and indie rock.
---
Haven't had enough?
Check out the Reviews Archive featuring reviews of releases by:
Liar's Academy, Midwest Dilemma, The Lyndsay Diaries, Jim Jacobi, The Invisible Cities, Namelessnumberheadman, Imperial Teen, Saul Zonana, The Bruces, Gone Out Gone, Duke Fame, Hello from Waveland, The Wrens/Five Mod Four, The Ants, Zelienople, Ravine, Jack Hayter, The Jupiter Project, Roman Evening, The Flaming Lips, All-Time Quarterback, Pedro the Lion, The Movies, Faith Kleppinger, John DeGrazio, Man Will Destroy Himself, Automatic Slim, Seafood, The Gloria Record, Cricket Rumor Mill, Bob Segar Tribute, Aveo, Knodel, Stereolab, Weezer Tribute, The Starting Line, Dewey Defeats Truman, Aereogramme, Red Shirt Brigade, Cave In , Voltadomar, Milemarker, Alkaline Trio, Hotwater Music, Indian Burn Records, Sorry About Dresden, Neva Dinova, Shelter Belt, The New Year, Red Level Eleven, Books on Tape, The Reindeer Section, Son, Ambulance, Pioneer Disaster, Kill Your Idols, The Elevator Division, Cursive, Jimmy Eat World, Paula Frazer, Burning Airlines, Juno, Strike Anywhere, Nymb, Crap Circles, Alien Life, Dashboard Confessional, The Orange, Brando, Dallas Orbiter, Tony Baloney, The Shiv, The Mother Hips, The Living End. Miss Fortunie, Cave In, Fairgrove, Fire in the Radio, Joan of Arc, Tristeza, Chixdiggit, Libraness, m.i.j., Aerosmith Tribute, Josh Rouse, Jets to Brazil, Sergio Vega, Bluebird, Centro-matic, Starlight Mints, Elliott, Sean Na Na, Weakerthans, Jimmy Eat World, Sea of Green, Hot Little Number, John Denver Tribute, The Mercury Program, Durian, Looper, Mammoth Volume, The Promise Ring, Pookey Bleum, The Explosion, Enon, The Donner Party, Gimme Indie Rock, Death Cab for Cutie, Yo La Tengo, Pedro the Lion, Applesaucer, Furnace St., The Cure, Drive-by Honky, Nerf Herder, Semi-Gloss, The Hillary Step, Hot Snakes, The Statue Factor, Duochrome, Brando, Men of Porn, Charles Douglas, Simon Joyner, The Gadjits, June & the Exit Wounds, Caustic Resin, Outrageous Cherry, Saves the Day, NOFX, Moviegoer, Stone Temple Pilots, Morning Becomes Eclectic, 311, Tinsel, The Wobblies, Madder Rose. The Believe It or Nots, Those Bastard Souls, Supperbell Roundup, The Hellacopters, Hicky, The Evil Tambourines, Miles Hunt, Pavement, Duraluxe, Bad Luck Charm, Hell on Wheels, The Laces, Monostar, Ben Lee, Gardener, Nancy Wilson, Chuck Brodsky, Beth Orton, UNKLE, They Might Be Giants, Einsturzend Neubauten, Looper, Damien Jurado, Joe Henry, Knapsack, The Notwist, The Dismemberment Plan, Ultrababyfat, Splitsville, Love & Rockets, Gomez, Hooverphonic, Burger/Ink, Son Volt, Silkworm, Possum Dixon, Juliana Hatfield, Vitreous Humor, Catatonia, Getaway Cruiser, Pulp, Cornelius, This Perfect Day, Brian Jonestown Massacre, Clever, Bedhead, Shipping News, Muler, Liquor Giants, Tommy Keene, The Grifters, Tsunami, Chisel, Cobra Verde, Box, Modest Mouse, The Connells, more...
Also check out the Live Reviews Section, featuring reviews of Omaha appearances by:
The Warlocks / Little Brazil, Cursive, Examination of the.. , The Carsinogents, Califone / Sea and Cake, Low, Simon Joyner / The Mariannes / The Golden Age, Landon Hedges, The Lepers, Mary Lou Lord, Interpol / Calla, Dave Dondero, Owen Mark Eitzel, Fizzle Like a Flood, Desaparacidos, Sorry About Dresden, Spoon, The Good Life, 754-HERO, Kinsgbury Manx, Azure Ray, The Jealous Sound, The Gloria Record, Sunshinte, The Carsinogents, The Sound of Rails, At the Drive In, Murder City Devils, Cursive, !!!, Tristeza, The Good Life, Bright Eyes, Her Space Holiday
Copyright 1998, 1999, 2000, 2001, 2002, 2003, 2004, 2005, 2006, 2007, 2008 Tim McMahan. All rights reserved.
Revised: April 27, 2008 .