Amy Blaschke


self titled

Guest review by Matt Whipkey

Acoustic guitar, bass and drums are a timeless combination. One listen to Bob Dylan's John Wesley Harding, it easy to understand the musical power of the trio. For her second full-length album, Amy Blaschke matched her solemn acoustic guitar with bass and drums. The results: an extremely plodding, boring, and monotone record.

It is not just the instrumentation that fails Blaschke on this self-titled effort. While the acoustic guitar, bass and drums add a consistent musical feel throughout the tracks, it is Blaschke's often off-key, meandering, and unintelligible vocals that add to the overall cant-wait-until-it's-over feel of the album. There is a glimmer of hope on the album; "Sweet Song" is an excellent piece of pseudo-pop songwriting with a sense of optimism. Even if the album included only one other song with a similar feel, it would have made for a much more enjoyable listen.

Hailing from the musical Mecca of Seattle, Blaschke is making a name for herself on the singer songwriter circuit. While this particular record is a definite pass-over there is no question of her talent and musical potential. It will be interesting to watch Blaschke over the next few years, as she will surely grow into and undeniable songwriting talent.
---
back to

Posted Nov. 14, 2003. Copyright © 2003 Tim McMahan. All rights reserved.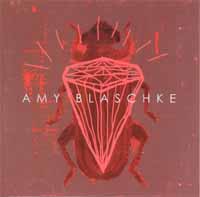 Rating: No

Obligatory pull-quote: "...it is Blaschke's often off-key, meandering, and unintelligible vocals that add to the overall cant-wait-until-it's-over feel of the album."

Tim Sez:

The last sentence of Matt's review is what we call classic CYA back-peddling. He, nor I, have any idea what kind of songwriter Blaschke will grow into. I think she's already doing pretty well. I happened to find not only "one other song" worth pondering, but two or three. Not the least of which is the album opener, "Estranged," which has one of the more infectious counter guitar lines I've heard in a while. "Skating at Night" also carries a sweet counter-melody, with Blaschke mewing "It makes me sentimental."

Blaschke's dry, almost atonal delivery comes from the same school of rag-doll-dressed vocalists as Azure Ray, Cat Power, The Softies, even early Liz Phair. And she writes songs just as well, though there's no question that she could do with a bit more variety in her tunesmithing next time 'round. Nice stuff, if you're in a rainy-day mood.


Tim's rating: Yes