Owsley Sunshine / The Tone Def Amigos


Combined Demo Tour Package

One of the reasons I run a website is finding weird, crazy splits like this that make no sense ending up in my CD player.

Owsley Sunshine is four-piece psychedelic rock outfit from Lincolnshire, UK, that plays unbelievably groovy '60s-era SF rock by way of Manchester, much in the same vein as The Warlocks and Brian Jonestown Massacre, but with bigger, more inviting hooks. "Sumoerday" keeps it simple with a groove that could have come off The Stone Roses' debut and the inspired line "My baby's home, so we'll get high." It is '80s Manchester dance fodder and there's nothing wrong with that as long as it's done right. "Im Fine" does it again, driven this time by trippy organs and Stephan Mors' thick, aggressive stickwork.

The CD shifts gears with fellow Lincolnshire townsmen Tone Def Amigos, who give us a more laid-back take on a similar groove. "S-Bends" is just plain gorgeous, the perfect song for your next mix CD, it blends keyboards, cello effects, guitars and floating, high-end vocals singing "She had hollow eyes / Fading out in the cold world." Sampler closer "Evolution" highlights the vocalist's Wayne Coyne-esque style on a rainy day acoustic number that's downright pretty.

Both of these bands are virtual unknowns in the states. Their label, The Foundry Crew, must have had the big idea of sending this split to small indie music review websites, as they're the only ones who seem to have written word one on either band. Owsley has a website (here), while there's no home for Tone Def Amigos. Will a bigger label take interest in these two inventive, groove-loving bands? We can only hope.
---
back to

Posted July 28, 2004. Copyright © 2004 Tim McMahan. All rights reserved.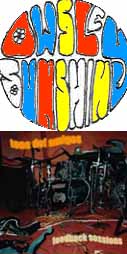 | | |
| --- | --- |
| | Rating: Yes |
| | Obligatory pull-quote: "It is '80s Manchester dance fodder and there's nothing wrong with that." |
| | |