Madcap


East to West

Guest review by Stephen Sheehan


Madcap successfully captures the bash and pop of first generation UK punk as heard in Stiff Little Fingers, Buzzcocks, Sham 69 and even a bit of early Clash. But amidst the piss and vinegar of the chunking pop metal chords and sing-along choruses there is a lack of lyrical depth, as evidenced in "Bright lights, big city/We want the streets."

So who is this CD for? Considering we've heard this stuff hundreds of times over the past 25 years by dozens of better bands, I don't know who would get excited about this in 2002. Madcap sound like their heart's in the right place, but they also sound like they'd be the perfect opening act for Joan Jett. Not that that's a bad thing. But since they're not adding anything to the formula that makes them any different than any other clenched-fist revivalist, I can't give them a 'yes.' Pogo anyone?

---
back to

Posted Dec. 18, 2002. Copyright © 2002 Tim McMahan. All rights reserved.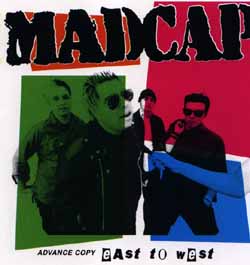 Rating: No

Obligatory pull-quote: "...Amidst the piss and vinegar of the chunking pop metal chords and sing-along choruses there is a lack of lyrical depth..."

Tim Says: But what I wanna know is what are you gonna do once you get the streets? For a punk band, these guys are pretty Flaccid (notice the capital 'F'?), especially compared to break-neck acts like The Explosion who may not be plowing new ground but at least sound like they care.

Rating: No