A People's History of
The Dismemberment Plan


various artists

What better way to say goodbye to one of your favorite bands than to dismember its music? The premise was simple -- invite fans via their website to download a song, remix it and send it in. While the intention was all good, the result wasn't. No single song meets or exceeds its original, none of which were exactly begging for the remix treatment in the first place.

At it's worst, the remixers have turned great songs into impenetrable fogs of noise, forcing you to pick through the haze to find any reminince of the original melodies. Parae's "The Face of the Earth ('super' soniq remix)" and Cex's "remix" of "Following Through" are the worst offenders, providing a solid border between experimental and grating.

Most tracks, however, are more subtle and try to compliment original material by showcasing Travis Morrison's always eager vocals amid herky-jerky rhythms and electronic doo-dads. The best are Ev's take on "The City," sporting some tasty trumpet, and Grandmaster Incongruous' merging of "Pay for the Piano" with Costello's "Pump You Up" and massive beats.

As a whole, the project is interesting on first listen, but none of these homemade explorations are worth hearing twice. If anything, the CD wets your appetite to listen to those classic D Plan CDs again and remember the good ol' days of not so long ago.
---
back to

Posted Nov. 4, 2003. Copyright © 2003 Tim McMahan. All rights reserved.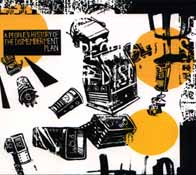 | | |
| --- | --- |
| | Rating: No |
| | Obligatory pull-quote: "No single song meets or exceeds its original, none of which were exactly begging for the remix treatment in the first place." |
| | |