Fairburn Royals


From a Window Way Above

Guest review by Doug Kabourek


Excellent from beginning to end, the album initially reminded me of Superchunk with vocals done by either member of They Might Be Giants, but that description doesn't cover the whole record because nearly every single song has a different production style with just Matt Lisle's engaging vocals for continuity. One song is glossy, the next is gritty -- and always for the betterment of the tune. This is how the truly great albums stand out. It's the difference between Bee Thousand and Do The Collapse. Kudos to drummer Jason Eshelman's wonderful production.

"The Projectionist" opens the record with its jangling shuffle and sets the scene: "At a movie once / I walked up to the screen and was too close to tell what's going on / So I turned around and saw the lights coming down from a window way above." From here on, it's just great pop and timeless, clever lyrics. "These Aren't Mistakes" is Lennonesque, with its "All You Need is Love" vocal structure and backwards looped rhythm. "These aren't the rules that we break / These are the rules that break us" sings Lisle.

"Paint the Night" sounds like a radically stripped down Mercury Rev, while "La Fuerza del Destino" is one of the few guitar-based instrumentals that holds my interest without using a major melody. My favorite song, "Necessities," is a beautiful, mid-tempo rocker that packs the same kind of punch found in the instrumental sections of Built to Spill's "Some" off There's Nothing Wrong with Love -- wonderful.

Fairburn Royals are one of the best acts out of Athens, Georgia, these days, and this record is one of my favorites of 2002. Their name will be heard more and more in the coming years -- you can't keep this kind of record a secret for long.

---
back to

Posted Jan. 12, 2003. Copyright © 2003 Tim McMahan. All rights reserved.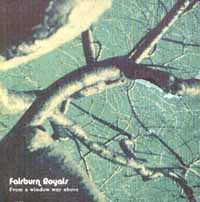 Rating: Yes

Obligatory pull-quote: "Fairburn Royals are one of the best acts out of Athens, Georgia, these days, and this record is one of my favorites of 2002."

Tim Says: I like this one for a whole different set of reasons than Doug. These guys can be insightful and funny at the same time. On "Japan," Lisle says he wants to move to the Pacific-rim country "because there's bonus tracks on all the records there." "Be My Punk Rock Friend" is the anthem for anyone who felt like the out-of-place idiot at a Fugazi show. Inspirational verse: "Can we not be friends because I take my shower? / Can we not be friends because I have a job? / Can we not be friends because I listen to Radiohead?" All the while, the music is warm and poppy and friendly as a puppy tripping over its own paws, playing in the grass.

Rating: Yes