Miracle of 86


Every Famous Last Word

Guest review by Matt Whipkey

Pigeonholed by the emo hang tag since their 1998 release, Emo Diaries Vol. 2 (Deep Elm), New York's Miracle of 86 may have finally shaken that horrible stigma on their latest Lakeshore Records release.

While all the emo ingredients are still there -- nasal vocals, dissonant guitar lines and bouncy, picked electric bass -- a strong pop sensibility also has infected these tunes, and damn infectious it is. Miracle of 86 picks a hook and pounds it into our heads. Their music reminds of me of everything that used to be good in pop music -- the beats bounce, the guitars chime, heads bop and engines will be race as this album makes it into the stereos of crappy Fords and Chryslers across the nation.

It's refreshing to hear a band so masterfully execute true pop choruses with such enthusiasm. From the Kinks-ish opener, "G-Song," through the pseudo country of "Sleep All Damn Day," Kevin Devine's vocals strain and soar with an exuberance that will move even the most disillusioned listener.

---
back to

Posted Nov. 19, 2003. Copyright © 2003 Tim McMahan. All rights reserved.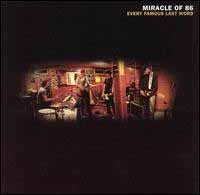 Rating: Yes

Obligatory pull-quote: "It's refreshing to hear a band so masterfully execute true pop choruses with such enthusiasm."

Tim Sez:

Slightly twangy at times, this take on typical indie rock fodder works on a very basic level by being as inoffensive as humanly possible. Songs like "Your Quicksilver Moment," and the title track border on vanilla indie rock. No, they haven't really stepped out of their emo shadow, but that's not necessarily a bad thing. They certainly outshine the competition (The Get Up Kids, New Found Glory) in the ongoing emo wars. Harmless fun.


Tim's rating: Yes