Two Guys


Recorded




Not your typical indie rawk, considering the fact that the Jones brothers are brothers, and there ain't nothing here but baritone guitar, drums and someone's nerdy, nasal voice. The brothers Jones are Cameron, who played with Pinback, Thingy and Physics; and Ryan, who managed to lure Cameron from San Diego to Portland for this project.

Part of it sounds like something that would be on a K Records sampler (the indie folk "Empty," the luring "Victoria"). More often, though, the dynamic duo tries to crunch (the angry "Ode to Masturbation," stumbling howler "TV," the wandering "Someone Stole My Fucking CD's") like arty, arch-indie Pixies rock fodder that more often than not flips over on itself when you least expect it. The narrow, minimalist compositions make up for their unfortunate habit of shifting gears a la prog right in the middle of a hopeful hook.

There's plenty of melody to go around, but the Joneses seem dead-set on ambushing it whenever they can, leaving you feeling restless, confused and slightly disappointed.

When they stick to the plan, though, like on the wonderfully catchy "Another Chance to Fuck Up," they run the board with sheer slacker brilliance. Unfortunately, those moments are few and far between.

---
back to

Posted March 23, 2003. Copyright © 2003 Tim McMahan. All rights reserved.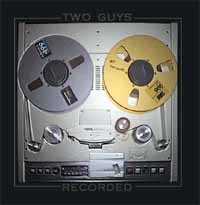 | | |
| --- | --- |
| | Rating: No |
| | Obligatory pull-quote: "The Joneses seem dead-set on ambushing it whenever they can, leaving you feeling restless, confused and slightly disappointed." |
| | |