For Against

Coalesced




They've managed to ignore every trend from the past 20-odd years, and ultimately, are better for it. For Against's original heyday was the glorious '80s and early '90s, and it's obvious from the first listen. Think acoustic-driven pop by bands like Lush, Catherine Wheel, James, The Sundays, Flyer, early Cranberries, Dream Academy, and local mavericks Digital Sex and you're getting there.

Coalesced encapsulates an era of warm, jangly pop music augmented by frontman Jeffrey Runnings' dreamy, high-register vocals which act more like a fourth instrument than as a way to convey lyrics. It's not that Runnings has nothing to say, it's more that you don't remember what he says because you're lost in music that floats like a sepia-toned afternoon, warm, hazy and oh so lonely.

At its very best, during the longer songs like the title track, "Self Life," and the 5-plus minute instrumental that ends the CD, the Lincoln-based trio finds itself in a hypnotic groove whose repetition rolls over you like waves of heat.

Despite critical lauding (The Big Takeover's Jack Rabid picked Coalesced as one of his favorites albums of 2002), For Against remains an unknown quantity, probably because the band never tours (I've never even known them to perform locally). Or maybe its because they're lost in time, and like it that way.

---
back to

Posted March 27, 2003. Copyright © 2003 Tim McMahan. All rights reserved.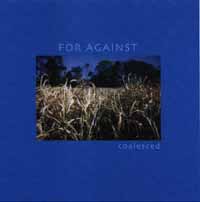 | | |
| --- | --- |
| | Rating: Yes |
| | Obligatory pull-quote: "...the Lincoln-based trio finds itself in a hypnotic groove whose repetition rolls over you like waves of heat." |
| | |