Denison Witmer


Recovered

Burnt Toast Vinyl

Guest review by Matt Whipkey

Neil Young, The Band, Gram Parsons and Jackson Browne have undeniably contributed to the bible of the singer-songwriter. In his still young career, it's apparent that this is the same book from which Philadelphia artist Dennison Witmer reads.

On his latest Burnt Toast Vinyl release, Recovered, Witmer offers his interpretation of the gospel according to Young, Browne and Cohen. While Recovered offers no new original Witmer compositions, its success lies in Witmer's ability to capture the power and beauty of each song he covers. Sounding eerily similar to a mid-'70s album by anyone of the aforementioned artists, Witmer masterfully recreates the mood of the singer-songwriter heyday. However, if the casual listener is unfamiliar with the deep catalogs of the artists, they might be in for a surprise. Such selections as Young's "Love in Mind" and The Band's "It Makes No Difference" are not "Heart of Gold" and "Up On Cripple Creek."

By digging deep into these artists' catalogs, Witmer has allowed himself room to breathe and interpret, not being pigeonholed by the familiarity of hits. The real achievement on Recovered is that Witmer makes every song sound as if it could be his own. With the experience of recreating some of rock and roll's most respected artists' songs, Witmer has undoubtedly strengthened his own knowledge of superior songwriting. This is an artist to watch as he defiantly has the potential to create his own chapter: the book according to Denison.

---
back to

Posted Nov. 10, 2003. Copyright © 2003 Tim McMahan. All rights reserved.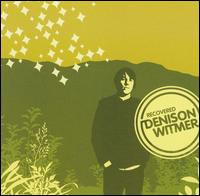 Rating: Yes

Obligatory pull-quote: "By digging deep into these artists' catalogs, Witmer has allowed himself room to breathe and interpret, not being pigeonholed by the familiarity of hits."

Tim Sez:

With the exception of maybe Mary Lou Lord, Witmer does what few musicians can -- he performs covers that don't make you yearn for the originals, because you're content just hearing his versions. It's a dour CD; Witmer's spare acoustic arrangements makes every song sound rainy-day and slightly gloomy, but that's okay. At the end of the day, this is still a covers album. The proof in the pudding is what Witmer can whip up on his own.

Rating: Yes