No Escape -- A Tribute to Journey

various artists




This 4-song EP of Journey covers by a handful of Midwestern indie artists works best when it doesn't even try to sound like the originals. Let's face it, you're not doing yourself any favors by trying to sing like Steve Perry -- and that's no insult to Perry. If anything, when you hear these versions, you'll long to hear the originals again, only because Perry's voice embodied everything Journey was about. Ever heard the new version of Journey without Perry? I rest my case.

That said, why even bother with this tribute? It's unlikely that any indie rock band is going to improve on the originals or even adequately complement them with a weird, minor-key rendition of a song we all grew up loving. The Wafflehouse* (I have no idea why there's an asterisk in their name) version of "Separate Ways (Worlds Apart)" epitomizes this idea. Does anyone really want to hear bad metal built around this melody, or some poor metal guy trying to sing Perry lyrics? I sure don't. It's followed by an agonizingly bad version of "Only the Young," done by Traindodge. The vocals are almost painful to listen to. I've heard Traindodge before, and they're not a bad band when they do their thing, not this thing. It's not ironic, it's just plain ugly.

The best moment is Ohms' striking rendition of "Anytime." It doesn't really sound like the original. Instead, Ohms uses the song's basic framework and lyrics to build a new, almost stalker-esque version that's downright haunting. Houston's version of "Send Her My Love" tries to accentuate the song's darker tone by adding heavy metal plod. The vocals are closest to the original, though a full octave lower than Perry's.

So far, Urinine has tried this grand experiment with Supertramp (a complete and utter, dismal failure), Bob Seger (not bad, not great) and CCR. Now with Journey, they've taken the experiment as far as it needs to go. Really. We don't need to hear indie covers of REO Speedwagon, Fleetwood Mac, Foreigner or Boston. We get the joke, Sid, and it's just not that funny anymore.

---
back to

Posted April 29, 2003. Copyright © 2003 Tim McMahan. All rights reserved.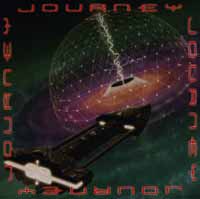 | | |
| --- | --- |
| | Rating: No |
| | Obligatory pull-quote: "It's unlikely that any indie rock band is going to improve on the originals or even adequately complement them with a weird, minor-key rendition of a song we all grew up loving." |
| | |