Emily Easterly


Cole

Guest review by Matt Whipkey

It is intriguing how different a record sounds depending on certain outside elements: location, time of day, time of year.

Emily Easterly's sophomore effort, Cole, is definitely one of these albums. On first listen on a sunny afternoon it is easy to dismiss it as another sad folk singer effort. However, drive down any street after midnight, and Cole comes to life. With its lush arrangements around Easterly's simple acoustic melodies, the album breaths with comfortable ease, all the while aware of its uneasiness.

Easerly is not breaking any new ground on Cole, nor was that ever the plan. In a voice resembling a one-too-many-cigarette throated Mazzy Star, Easterly delivers whispered melodies on songs such as "Bad Luck" and "Tuesday" that invite listeners in. Lyrically, Cole is mostly concerned about a broken relationship -- a timeless subject endlessly addressed in rock and roll. Easterly offers no new revelations as to what makes men and women work, but it is the simple conviction in how she delivers lines such as, "I got this strange friend of mine, he makes friendships hard to define," from "Bound to You" that makes it effective. Clocking in at just less than 30 minutes, Easterly's music does not wear on the listener, but invites repeated listens. It is with each subsequent listen that you can hear the forming brilliance of a first-rate songwriter.

---
back to

Posted Oct. 31, 2003. Copyright © 2003 Tim McMahan. All rights reserved.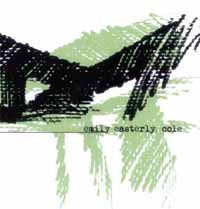 Rating: Yes

Obligatory pull-quote: "It is with each subsequent listen that you can hear the forming brilliance of a first-rate songwriter."

Tim Sez:

On first listen, it reminded me a lot of Aimee Mann, though not as catchy, and without the lyrical punch. Still, a nice rounded effort by a young, unknown Richmond, Virginia, songwriter.

Rating: Yes