Comets on Fire


Blue Cathedral

Early Led Zeppelin plus The Feelies plus a bag of drugs equals drawn-out, over-the-top psychedelic jams filled with beautifully screeching guitars, old-school synths and plenty of pouty unintelligible Plant-like vocals. They used to call this stoner rock back in the day, probably still do. Straight from the bay area in a cloud of blue smoke. How Sub Pop found out about these guys, we'll never know.

When the music isn't revved up, vamped up, geared up heavy metal, it's bright-light space rock of the most trippy kind. And never boring. Probably a bit too loud for old hippies, way too psychedelic and tye-dyed for the indie set, appealing only to those of us who like their music blisteringly loud and, above all, heavy. Typical jams stretch out around five minutes of pure bombast, while the finale comes in at a whopping ten minutes of echo-filled head trip with no filler.

---
back to

Posted Aug. 9, 2004. Copyright © 2004 Tim McMahan. All rights reserved.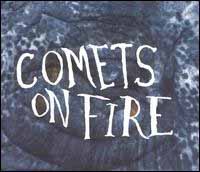 | | |
| --- | --- |
| | Rating: Yes |
| | Obligatory pull-quote: "When the music isn't revved up, vamped up, geared up heavy metal, it's bright-light space rock of the most trippy kind." |
| | |