Modest Mouse


Good News for People Who Love Bad News

I'm partial to their early, weird stuff and never expected them to be around long enough to either catch on or assimilate to Clear Channel acceptability. Good News... is the middle ground between the two. The first three songs, including the golden hit and the next golden hit, will go over well at the next family barbecue, what with its strings and bouncing guitar lines and sing-along lyrics that seen a bit subversive, especially for grandpa ("You wasted life, why wouldn't you waste death?"). But hey, who really pays attention to the words, anyway?

Don't worry noise lovers, they let their freak flag fly beginning with the yellers "Bury Me With It" and "Dance Hall," where they sound like a weird morph of Primus, Talking Heads and a vaudeville show. But even here, there's a sense of restraint, almost as if they think they're getting too old to do weird shit like "Never Ending Math Equation." And maybe they are.

They keep the strange vibe going right up to track 13, "Blame It on the Tetons," which sounds like one of the more subtle numbers off Pavement's Wowee Zowee. In fact, if there's a model that they're following, it's the same one that Pavement used for their later albums, where half the songs were melodic ballads and the other half were noisy freak-outs. It worked then and it works now, even though Pavement ain't around anymore.
---
back to

Posted July 16, 2004. Copyright © 2004 Tim McMahan. All rights reserved.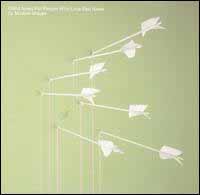 | | |
| --- | --- |
| | Rating: Yes |
| | Obligatory pull-quote: "If there's a model that they're following, it's the same one that Pavement used for their later albums..." |
| | |