Poleposition

XO EP




Electronic bands these days are a dime a dozen (thanks to our insatiable appetite for all things retro and ironic). This duo only takes part of the past into its future, and only the best parts at that. When it reminds me of something old, like Pet Shop Boys, the vision is quickly dashed by Daniel Da Silva's lilting, chanteuse vocals (you'd think it was Paula Frazer) and the always driving, percussive syncopation.

Opening shot "Boulevard" is pure, elegant drama, with an impossible-to-forget piano line and strutting drums that sound like Tango-contest fodder. It's more of the same for the rest of the 5-song EP. There's a black-clothes vibe that hangs over everything, as if these guys were from Europe and not New York/New Jersey.

---
back to

Posted July 24, 2003. Copyright © 2003 Tim McMahan. All rights reserved.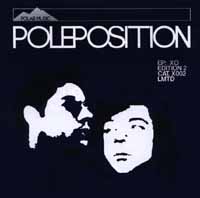 | | |
| --- | --- |
| | Rating: Yes |
| | Obligatory pull-quote: "This duo only takes part of the past into its future, and only the best parts at that." |