Sour Deluxe


White Noise

These Chicago rock athletes try to put a new spin on the girl-fronted indie rock schtick established by bands like Veruca Salt and Tsunami, but with more than a touch of Garbage and Pumpkins influence. I like it because lead throat Jamie is kicking out "Let's Start a Revolution" like a modern-day Republica doing "Ready to Go." When she needs to be throaty, she's throaty; when she needs to be sexy, she's throaty; and when she wants to be cute she's downright precious.

Playing tunes that are more pop-rock than indie, Sour Deluxe is a band that's ripe for discovery but may never be, rock being what it is. But in a time when Avril is considered good chick rock, the radio world needs something like this only to balance things out for a teen-aged world that should know better but doesn't.

---
back to

Posted July 3, 2004. Copyright © 2004 Tim McMahan. All rights reserved.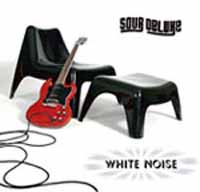 | | |
| --- | --- |
| | Rating: Yes |
| | Obligatory pull-quote: "When she needs to be throaty, she's throaty; when she needs to be sexy, she's throaty; and when she wants to be cute she's downright precious." |
| | |