Consonant


Love and Affliction

Tuck away the fact that this is an all-star line-up from some of the most notable indie bands of the past couple decades. Headed by Mission of Burma bassist Clint Conley, and including guitarist Chris Brokaw (Come, Codeine), drummer Matt Kadane (Silkworm, Bedhead), and produced by Bob Weston (Shellac), Consonant isn't so much a supergroup as a gathering of expatriates looking for another way make noise in the every-changing underground music world that they helped create.

They've found it by mining the music that came before their own past lives. Love and Affliction is a straight-on low-tone rock album with more than a few retro touches blended among the usual indie-rock flair. The band knows how to weave its atonal feedback among the tapestry of jangling, bass-heavy pop songs. They come closest to their own roots when the guitars are at their grittiest, like on the shimmering opener "Little Murders," grinding stomper "Cauldron," and footsteps-of-doom closer "Blue Story." You could argue that there is nary a memorable hook among these 11 bouncy tracks, but coming from these guys, what did you expect?
---
back to

Posted Nov. 22, 2003. Copyright © 2003 Tim McMahan. All rights reserved.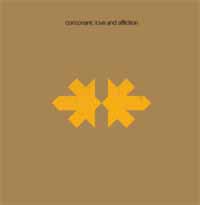 | | |
| --- | --- |
| | Rating: Yes |
| | Obligatory pull-quote: "You could argue that there is nary a memorable hook among these 11 bouncy tracks, but coming from these guys, what did you expect?" |
| | |