Statistics


Leave Your Name

We got an inkling of what Statistics' mastermind Denver Dalley was up to with his June 2003 self-titled EP. Now along comes his debut full-length, also released on indie powerhouse Jade Tree Records (Pedro the Lion, Girls Against Boys, Jets to Brazil).

With his EP, the one-man recording project by the guitarist of Saddle Creek Records indie rock outfit Desaparecidos delivered a stew of buzzing electronic noises, sharp kick drums, synths and Pixies-style tonal guitar that felt like low-octane Depeche Mode or New Order. Not bad for a first try.

Now with the 11-song Leave Your Name we get more of the same, only better, more confident, and more thought-out. The synths have the same buttery consistency, the guitars the same bouncing crack. But this time his breathy voice is stronger, more self-assured. You get a feeling that our boy Denver was just figuring out where he was headed on the EP. And though this is far from where he wants to be, it more clearly defines his position on the musical map.

The opening solvo on "Sing A Song" goes out to us dirty writers: The critics take their pens / Comparisons made in names / Dropped in all bold face / To sound like his best friends. But it's more about the fleetingness of songcraft, as it reflects this album's whole world-weary feel. The lush, beautiful "The Grass Is Always Greener" and instrumental "Mr. Nathan" are the ones that are going to get compared to Disintegration-era Cure, even though Dalley's lonely vocals in no way resemble Robert Smith's. Instead, the songs have that same Cure shimmer/sheen created by combining clear guitar tones with layers of cascading power chords.

Meanwhile, on stuff like "Accomplishment" and the EP holdover "Hours Seemed Like Days," you can almost imagine what the song would sound like sung by fellow Desaparecidos' bandmate Conor Oberst. If Statistics has made one thing clear, it's how important Dalley was to that band's overall sound. With the fate of Desaparecidos firmly up in the air, it's nice to know at least part of that band's sound will live on.

---
back to

Posted Jan. 9, 2004. Copyright © 2004 Tim McMahan. All rights reserved.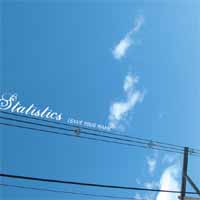 | | |
| --- | --- |
| | Rating: Yes |
| | Obligatory pull-quote: "Though this is far from where he wants to be, it more clearly defines his position on the musical map." |
| | |