Karl Hendricks Trio

The Jerks Win Again




They sound like a Silkworm tribute band; surprising since these guys have been around since 1991. Their fuzz-guitar stance borrows not only from Silkworm, but Crazy Horse, D Jr., and The Kinks (but then again, you could say Silkworm also borrows from those old war horses). Maybe all these years Silkworm has been sponging off of Hendricks? Highly doubtful...

Listening to this is a very odd experience indeed, if you, like me, are a huge Silkworm fan. The deficits immediately rise to the top, and they're centered around the lyrics. Because beneath Silkworm's gritty guitar fog are painfully sobering words about drinking, love and longing that stand out as pure genius (too bad so few people share my view of the band or else Silkworm wouldn't be virtually unknown in my hometown of Omaha, where it's impossible to get a promoter to book a Silkworm gig). Not so with this stuff, mainly because the vocals are muddied and lost in the mix and Hendricks is no Tim Midgett.

Even the guitar solos are strangely Silkworm-esque. Listening to "I Think I Forgot Something… My Pants" and I'm transported back to last year's Italian Platinum CD. At times, like on the true 13-plus minute album closer "The Summer of Warm Beer," Hendricks' guitar solos go the extra mile, channeling Dinosaur Jr. grit with long, drawn-out Neil Young odysseys. It either comes off as noodling or transcendent, depending on your point of view (I lean toward the latter).

Is this all that bad to be mistaken for Silkworm? Could the two bands have converged on the same spot by sheer serendipity? Well, anything's possible. In the end, we're left with what's essentially a lost Silkworm album, but without the pathos.

---
back to

Posted Sept. 16, 2003. Copyright © 2003 Tim McMahan. All rights reserved.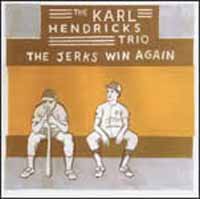 | | |
| --- | --- |
| | Rating: Yes |
| | Obligatory pull-quote: "...Hendricks' guitar solos go the extra mile, channeling Dinosaur Jr. grit with long, drawn-out Neil Young odysseys." |
| | |