Gatsbys American Dream

Ribbons & Sugar




Good math-core works when it's so damn clean you can't help but notice the breaks. It also helps to have good melodies and counter melodies. When done right, it can soar, like on this 29-minute ode to George Orwell's "Animal Farm." Sound pretentious and overbearing? Sure it does, but the crisp production (handled by James Paul Wisner (Further Seems Forever, Dashboard Confessional)) and bop-bop-bop-crash melodies takes care of all that. At the end of the day, I'm not sure how closely the lyrics line up with the Orwell classic, nor do I really care. That would mean having to follow along with the lyric sheet (and read "Animal Farm"), and I'm too busy listening to the Seattle five-piece's bone-cracking kick-drum, guitar slides and tasty arrangements that border on good indie prog.

It's not all good. Vocalist "Nic" is a bit too cooing, a bit too precious, a bit too Tommy Shaw for my taste (the fact that they have their vocal coach credited on the liner notes is a frightening sign). His voice is as irritating as looking someone's perfect hair. Doesn't he know that the only real perfection in mathcore is in the instrumental equation? Sure they sound slick, and they may even have a commercial future, but at least their honest.

---
back to

Posted May 9, 2003. Copyright © 2003 Tim McMahan. All rights reserved.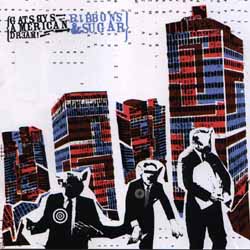 | | |
| --- | --- |
| | Rating: Yes |
| | Obligatory pull-quote: "Sound pretentious and overbearing? Sure it does, but the crisp production (handled by James Paul Wisner (Further Seems Forever, Dashboard Confessional)) and bop-bop-bop-crash melodies takes care of all that." |
| | |