Atom and His Package

Attention! Blah Blah Blah




His music and style have been offensively deemed "nerd core," when there's nothing nerdy about it. Nay, Atom may well be the only propagator of true social commentary in this time of angst, weeping and shameless self-absorption. While the emo kids are wailing about their broken hearts, Atom is raging against the toils of home moving (in his case, apartment moving), one-sided hubris (in this case, Middle East issues), smoking (it's still not cool), and still has time to write a love song to his grandmother. The song titles alone make it worth a listen (respectively, "Possession (not the one by Danzig," "The Palestinians Are Not the Same Thing as the Rebel Alliance, Jackass," "Friend, Please Stop Smoking," and "Does Anyone Else in the Room Want to Marry His or Her Own Grandmother?").

The Philly native's wit, intelligence and nonchalant way of cutting through the crap make this more than just a pop-punk novelty record. Musically, Atom's trusty sequencer -- his "package" and entire traveling back-up band -- is getting more and more help from, well Atom, on guitar, drums, bass and other keyboards. In fact, I'm not sure how the ol' boy is gonna do this one on the road by himself (and probably never will, as he isn't scheduled to come through Omaha any time soon).

Sonically, think Weird Al's whiney, nasal voice crossed with The Dead Milkmen, or The Mountain Goats with lots of electronic doo-hickeys. He gets better and better with each record -- better melodies, better instrumentation, and more thoughtful and clever lyrics. If Bright Eyes is the new Bob Dylan, than Atom might be the new Arlo Guthrie. Or Smothers Brothers. Or Randy Newman.

---
back to

Posted May 9, 2003. Copyright © 2003 Tim McMahan. All rights reserved.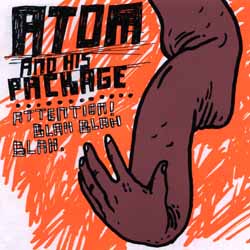 | | |
| --- | --- |
| | Rating: Yes |
| | Obligatory pull-quote: "Atom may well be the only propagator of true social commentary in this time of angst, weeping and shameless self-absorption." |
| | |