Young People


War Prayers

Guest review by Matt Whipkey

L.A.'s The Young People are undoubtedly a critics' favorite. Writers and reviewers alike praise the band for nearly single handedly developing a new genre of music: avant-Americana. On War Prayers, The Young People definitely deliver the avant-goods. Unfortunately, it comes at the expense of melody and cohesive song structures.

It's apparent that this band is out to experiment with the modern-day concept of song, twisting and turning their compositions every which way. Needless to say this makes for an extremely uneasy listen. Some may call them a challenging band; a terribly mediocre and tuneless group is more appropriate.

Salvation comes in the form of Katie Eastburn's vocals. It is her calming lyrical delivery that saves the album from being a complete throwaway. After several listens, Eastburn's vocals take on a near mythic form, conjuring up ghosts of America's musical past. It is a shame that such a unique vocal talent has been teamed with meandering and annoying musical compositions.

It is more than frustrating when a band appears to go out of its way to collectively destroy the musicality of a song. You get the feeling that The Young People are forcing themselves to take their songs on an abstract and disjointing musical journey. Someone should inform them that there is nothing wrong with performing a song in a proper musical form. If The Young People ever lay back and let Eastburn's vocals take the reins, than this will be a band worth listening to.

---
back to

Posted Nov. 21, 2003. Copyright © 2003 Tim McMahan. All rights reserved.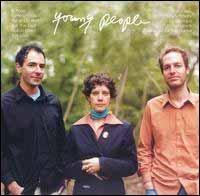 Rating: No

Obligatory pull-quote: "Some may call them a challenging band; a terribly mediocre and tuneless group is more appropriate."

Tim Sez:

It has the same resonance as P.J. Harvey's 4-track stuff, Scout Niblett and Cat Power,but it's jumpier and more playful than all of them. I don't find them particularly experimental as much as jarring and dissonant, thanks to Eastburn's insistence on singing off-key during some of the loud parts. There are times, like on "Rhumba" and "Ask About the Dust" where Eastburn's enthusiasm channels Nancy Sinatra, ironically at least. Most of these simple tunes are only a couple minutes long. All are propelled by Joe Plummer's booming, big-band-style drums. Sure, it's arty and thumbs its nose at the traditionalist who insist on a clean, easy melody with smooth, curved edges. The Young People don't care if you cut your finger on a misplaced shard of broken glass. If you were looking for a safe, quiet place to lay your head, you should have bought a Nora Jones album.


Tim's rating: Yes