Tilly and the Wall


Wild Like Children

With all the attention to the tap dancing and the giddy melodies and the group choruses, what's getting lost are the insidiously, almost deceptively somber messages.

"Nights of the Living Dead," is your typical story of high school debauchery complete with pass-out drunks, prostitutes, guns and death sung by a group of kids that aren't kids anymore, but haven't forgotten what it's like to be in high school in an America chock full o' boredom and tragedy, where the mantra is "I want to fuck it up."

"You and I Misbehaving" feels like teenagers struggling with growing old. Actually, all these songs sound like kids struggling -- with growing up, with "love," with themselves, told in a way that will relate to anyone who remembers high school and being stuck outside looking for others who are stuck outside. Add to that a sense of defiance that goes with being this generation's Holden Caulfield.

Funny how all that is getting lost in the novelty that's inherent to a band that touts a tap dancer, because no matter how sonically effectively she is, she's still wearing tap shoes and that's where the spotlight shines even though it doesn't haven't anything to do with songs' messages.

Everyone wonders if Tilly is a one-shot deal. It would be a shame if that were the case, because once you get past the gimmicks, the cute girls and the teen idol following, you notice the songwriting, which is tuneful, honest and real. They may declare their manifesto in the closing song, but Tilly hasn't even begun to fight.
---
back to

Posted Aug. 9, 2004. Copyright © 2004 Tim McMahan. All rights reserved.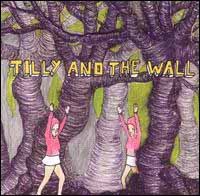 | | |
| --- | --- |
| | Rating: Yes |
| | Obligatory pull-quote: "Once you get past the gimmicks, the cute girls and the teen idol following, you notice the songwriting, which is tuneful, honest and real." |
| | |