Cex

Being Ridden




You wanna believe that he's some sort of hepped-up computer nerd done good by hip-hop standards, but in fact Cex a.k.a. Riyan Kidwell is probably cooler than you, and seems pretty content in letting you know it.

The cockiness is all there (it's hip-hop, remember?), though Kidwell too often cuts the lines with too much emo hangover. Nobody wants to dance with the angsty, introspective guy sulking in the corner, so why bother bringing that baggage to the party? Instead, Cex should take his own advice so flippantly dished out on the best track here, "Earth-Shaking Event," where he manages to diss everyone he's bound to come in contact with on tour -- "Middle finger to the indie rock singer / Middle finger to the whack emcee / Middle finger to the uncreative underground" -- the only ones missing are the promoters and club owners.

He gets it right when he uncorks the beats and leaves the feedback to Trent Reznor, who he dearly has a jonze for (not to mention MC 9000-ft. Jesus, of which he is the reincarnation, though not nearly as clever, or catchy). Opener "The Wayback Machine" works despite the Nine Inch Nails treatment halfway through, mainly because he sounds like a guy just trying to get along. "Not Working" feels like DJ Jazzy Jeff & the Fresh Prince straight outta Bel Aire, though I doubt Will could have done it better.

The downside is the acoustic stuff, the instrumental stuff, the non hip-hop stuff (i.e., the filler). He squeaks by on personality alone and because he's not as misogynistic as he could be -- probably because he really is just a hepped-up computer nerd after all.

---
back to

Posted May 14, 2003. Copyright © 2003 Tim McMahan. All rights reserved.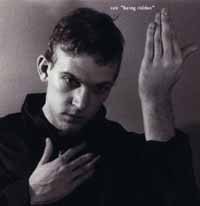 | | |
| --- | --- |
| | Rating: Yes |
| | Obligatory pull-quote: "He gets it right when he uncorks the beats and leaves the feedback to Trent Reznor, who he dearly has a jonze for (not to mention MC 9000-ft. Jesus, of which he is the reincarnation, though not nearly as clever, or catchy)." |
| | |