The Good Life


Help Wanted Nights

Forget the fact that this is supposed to be the soundtrack to a film penned by singer/songwriter renaissance frontman Tim Kasher. You and I haven't seen the movie, which may or may not ever get made.

The fact is, all of The Good Life's music is theatrical at its very core. Their last record, 2004's Album of the Year, could have been used in a moody, off-off-Broadway musical, each song telling a boy-meets-girl, boy-loses-girl story of love and betrayal, all with a single broken heart. In Kasher's world, the loser protagonist always is well-written and clearly defined. It's the antagonist (presumably a composite of every woman who Kasher ever slept with) that could use a little more character development. They can't all be heartless bitches, can they Tim? Maybe they can.

Help Wanted Nights tells that same lonely story all over again, but simpler, easier and with more clarity. Our hero once again is the slouching, insecure, slightly damaged loser we've all come to love -- the antithesis of every horny fuck-and-run cocksman you remember from your favorite '80s hair-band.

Kasher's men are rarely in control in any relationship, having either just been dumped or are about to be, but never destined for happiness except for that short-lived moment of a one-night stand that precedes a cold-light-of-day reality that it won't be anything more than that. In Kasher's world, it's the women who are the cocksman, always in a hurry to leave that familiar so-so gigolo the next morning.

Take the soft-shoe opener, where Kasher pines, "Either you love me or you leave me but don't you leave me on this picket fence," or the bouncy, bass-driven "Heartbroke," where our hero suffers Joe Jackson-inspired frustration when he realizes his ex is already getting some. "I see you've found a way to pass the time," he says. Her reply: "I like him, he's a lot like you." Ouch.

Musically, Kasher and Co. take the simpler-is-better route, stripping songs to the very basics of melody, counter-melody and rhythm (with a guitar solo thrown in for good measure). Each shortish tune ends simply, concisely, without any over-the-top flourishes. Good thing, too, because too much drama would have pushed these lyrics into rather maudlin territory.

Taken as a whole, the CD is the least cluttered of anything Kasher has ever recorded, either with this band or Cursive, revealing a level of song craft that all-too-often can get lost in the din. Its very simplicity is a lesson that his pal and label mate Conor Oberst could benefit from.

In some ways, the collection is a throwback to simpler, better times, when songs were three minutes or less and recorded to be heard on your FM radio instead of a computer. All of them, that is, except for the 10-minute-plus closer, where Kasher asks yet another potential lover, "What are you really after? / What are you hoping to gain?" Chances are, it's not you, pal, or your droning feedback that buzzes for three minutes after the last organ tones fade, presumably to allow for all the end credits to scroll across the screen.

Help Wanted Nights is a thinking man's (and woman's) pop album, a collection of tragic love stories where the hero doesn't get the girl because, well, he's just no damn good, and in Tim Kasher's world, there are no happy endings. But I could be wrong. After all, I haven't seen the movie.

---
back to

Posted Sept. 20, 2007. First published in The Reader. Copyright © 2007 Tim McMahan. All rights reserved.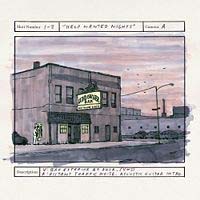 | | |
| --- | --- |
| | Rating: Yes |
| | Obligatory pull-quote: "Its very simplicity is a lesson that his pal and label mate Conor Oberst could benefit from." |
| | |