The Good Life


Lovers Need Lawyers

The Good Life is the kinder, gentler side of singer-songwriter Tim Kasher. Whereas his punk band Cursive performs abrasive, angular rock, The Good Life drops the anger in favor of melody, and we're all better for it.

Lovers Need Lawyers is a six-song musical soundtrack, a mini Hedwig collection of tunes suited for performance in full costume by a cast of characters playing out a story set in Kasher's reluctant home town of Omaha. Here, our shaggy, bearded hero tells the tale of a rag-tag ne'er-do-well entertainer, a nomadic showman caught in a maelstrom of touring, travel and personal relationships gone array. He's down and out with an introspective song in his heart -- not bitter but accepting.

The theatrics come by way of Kasher's descriptive, storybook narratives. You can just see him strutting across a stage, explaining how -- try as he might -- he can't seem to leave Omaha, or doing a soft-shoe while he sings "I'm not an artist I'm an asshole without a job making money off alcohol." All that's missing is a romantic duet (Maybe someone can talk one of the Azure Ray women into sharing some verses on the title song). Kasher is downright chatty on "Always A Bridesmaid," bouncing above a jangly piano, giving us a slightly twisted "Themes from an Italian Restaurant."

Though not as sonically interesting as the band's 2000 debut, Lovers Need Lawyers is a remarkable rebound from the dark, booze-soaked angst of 2002's Black Out. Kasher and company's tunes are a modern-day, Jolson-esque three-penny rock opera. You can hear them all smiling right through the acoustic rambler that closes the disc. Sure, it's only a prologue to the band's anxiously awaited full-length, Album of the Year, slated for release later this year. But if this EP is any indication, Broadway here they come.

---
back to

Posted July 14, 2004. Copyright © 2004 Tim McMahan. All rights reserved.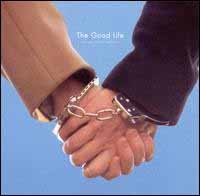 | | |
| --- | --- |
| | Rating: Yes |
| | Obligatory pull-quote: "A remarkable rebound from the dark, booze-soaked angst of 2002's Black Out." |
| | |