Up Up Down Down Left Right Left Right B A Start


Perris, CA EP

The post-punk jangular outfits are a dime-a-dozen these days. Or are they? All's I can tell you that the number of Superchunk-meets-Cursive discs that land in my mailbox rivals the avalanche of AOL start-up discs that haunt us all, and often land in the same place.

Up, Up, Down, Down (which, I think, references some sort of old cheater code for the Nintendo NES game system) lives in the same jangular territory, but makes its own mark thanks to swinging guitars riffs so big they're downright brazen. Between the jangle and the angle are power chops subtle as an ocean wave you can just tell is gonna knock you on your ass.

Their post-punk indie rawk noise pushes the genre in the right direction, with both finely crafted tunesmanship and enough guitar gronk to please the most die-hard Fuguzi fan. Though I've cast them in with Cursive, Criteria is a more appropriate brethren, thanks to their scream-along melodies (see the anthemic "Come Away") that break through the chiming noise with white-knuckle rigor. The lyrics -- short and to the point -- barely outline a relationship in this modern world, but that's okay. The carefully selected words are a perfect compliment to this carefully written music. (Inspirational verse: "They'll never mistake you for me 'cause I'm mean"). And with five good songs out of five (no filler), it's more evidence that EPs are probably the way to go.

---
back to

Posted Dec. 4, 2003. Copyright © 2003 Tim McMahan. All rights reserved.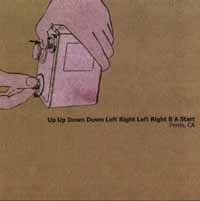 | | |
| --- | --- |
| | Rating: Yes |
| | Obligatory pull-quote: "Between the jangle and the angle are power chops subtle as an ocean wave you can just tell is gonna knock you on your ass." |
| | |