Canoe

I Give You Canoe!




Takes the best parts of The Strokes, The Cars, GBV and Jack Black and rolls it into one big messy ball. Yeah, I know that puts a rather jaded face on a band that's supposedly legendary in the Austin area as thee party band to see. And especially considering that The Strokes suck, The Cars are the zenith of retro, every band and their mother references GBV these days and Jack Black is pure novelty. Add to that a noisy, manic, frenetic energy that's not unlike the dreadful one-trick pony Andrew W.K., and it all should come together into an awful shit stew. But it doesn't.

There's something remarkably pure about Canoe that places them above that ignoble fray. Of all the bands mentioned above, they most resemble The Strokes, but are about a million times better than that boring, lifeless ensemble thanks to static energy alone, not to mention an almost carnival-like kaleidoscope of sound and weirdo-lyrics ("Corndogs Are Our Friends" is exactly what you expect it to be be about).

You could also bunch them together with this year's class of NYC garage bands, except that they augment their slasher guitars with Greg Hawkes-style keyboards that take you directly to 1980 in a heartbeat. With their less than acerbic lyrics and reputation for unabashed stage hi-jinx, some might write them off too quickly as novelty. And that would be a mistake.

---
back to

Posted Aug. 25, 2003. Copyright © 2003 Tim McMahan. All rights reserved.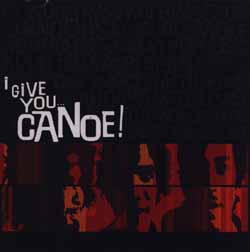 | | |
| --- | --- |
| | Rating: Yes |
| | Obligatory pull-quote: "Takes the best parts of The Strokes, The Cars, GBV and Jack Black and rolls it into one big messy ball." |
| | |