Gerty


Sweets from the Minibar




This sounds more like The Cars than The Cars did toward the end of their run, thanks to the Cars-style keyboards (last heard on The Rentals' first album), and Cars-style electric guitars (heard nowhere else, really). And even though the Durham, N.C., duo sports female vocals on most tracks, there's an undeniable Cars sheen in the singing as well, probably because Shirle Hale is perfectly complimented by husband David Koslowski on the harmonies (and his occasional lead).

The third person in the mix is producer Chris Stamey, last seen running around with the dBs in the early '80s (in fact, the project turns into a pseudo Let's Active reunion when Mitch Easter adds guitar to "Magnastar").

The result is a supersweet post-New Wave sound that the band calls "Europop" but has more in common with the current American retro electronic acts. In fact, the more synths they pour on, like on the short, kicky "Lower Moreland," the more outwardly poppy they get. Most songs are in the three minute range, with the exception of the jerky, synth-string-fueled waltz ballad "Remember" and "Head Hang Low," a lush track that features a nice touch of trumpet that clocks in at around six minutes.

It isn't until toward the end of the CD (the spy stuff "She Rides Trains in Belgium," the Hooverphonic-esque "21st Century Girl") that Gerty gets a bit more sinister, which is a tasty contrast to all the up-swing pop stuff, but even then, it's just a matter of a key or tempo change amidst a collection of simple, warm pop ditties that'll be close to the heart of any Cars or Rentals fan, and those of us who long for those wide-eyed Reagan-pop years.

---
back to

Posted Dec. 4, 2002. Copyright © 2002 Tim McMahan. All rights reserved.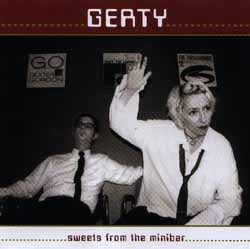 | | |
| --- | --- |
| | Rating: Yes |
| | Obligatory pull-quote: "...sounds more like The Cars than The Cars did toward the end of their run." |
| | |