Gary Numan


I, Assassin
Warriors

Guest review by Stephen Sheehan


These two titles signal the end of Beggars Banquet's campaign to reissue the first eight Gary Numan albums. Originally released in 1982 and 1983 respectively, these CDs feature expanded booklets, extra tracks and remastered sound. Unfortunately neither of these titles hold much weight in Numan's canon other than exhibiting his interest in white-British-boy-early-'80s-pseudo-electro-funk. I mean, if this interests you that's fine but you might as well go straight to the Human League's Dare and eliminate the middleman along with the peroxide.

Numan was criticized early in his career, as far back as the Tubeway Army days, as sounding too close to Bowie, to the point where some wondered if he indeed possessed his own sound and vision. Tubeway Army's excellent second album, Replicas, (which today sounds like it could be the Holy Grail to fans of The Faint despite the fact that it was released in 1979), proved that they and Numan had mastered the art of frosty detachment using robotic beats, icy synthetics and monotone vocals. By default, Numan had become the harbinger of Cold Wave and was no longer considered an imitator. His career exploded on The Pleasure Principle, his first solo album released soon after Replicas in the same year, which featured the huge hit "Cars."

But back to these reissues, please...

Although Numan remains content to heavily emphasize synthetic sounds and beats on both albums, it's the elastic, boingy bass guitar that does most of the driving. So what we have on a lot of these tracks is Numan sounding somewhat like David Sylvian, while the backing tracks sound like iffy outtakes from Sylvian's innovative art rock band Japan. Problem is most of these tracks just aren't very interesting and even fewer are vaguely close to memorable, especially with all the sad-ass sax playing and occasional harmonica.

The one track from across both of these discs that brought me back for more was "We Take Mystery To Bed" from I, Assassin, which contained a couple of elements missing from most of the other stuff: fun and joy. Seriously. Prince would be envious. It's six minutes of bass-slappin' boink pop featuring a descending melody line that immediately recalls "Cars" without appearing too obvious. It's easy to visualize a dance floor filled with white folks boogying to the groove while wearing poofy shirts, wide vinyl belts and acid wash jeans, elbows bent over their heads as their over-sprayed towers of hair remain hard as helmets. Pass the mirror, please.

On musical merit alone I can't give these reissues a "yes," but they will be christened with a "yes" based on the effort to properly present Numan's back catalogue. And with this thing called electroclash that we're hearing about, why not look over our shoulder to someone who was doing it back in the day without knowing it or realizing the influence he'd carry?

---
back to

Posted Jan. 4, 2003. Copyright © 2003 Tim McMahan. All rights reserved.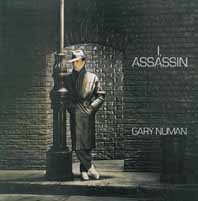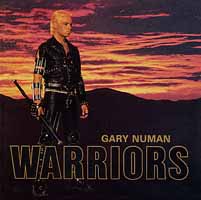 | | |
| --- | --- |
| | Rating: Yes |
| | Obligatory pull-quote: "It's easy to visualize a dance floor filled with white folks boogying to the groove while wearing poofy shirts, wide vinyl belts and acid wash jeans, elbows bent over their heads as their over-sprayed towers of hair remain hard as helmets." |
| | |