The Kite-Eating Tree


Method: Fail, Repeat...

Cowboy Versus Sailor

Is it me or does K-ET lead singer Michael Hunter sound just like Matt Sweeney from Chavez on opening track "Softer Seems the Pavement"? In fact, I kinda think these guys are going for that whole Chavez thing, though their music isn't quite as adventurous. (I don't know why I still compare bands to Chavez. Though great, and influential, that band was so short-lived that everyone's probably scratching their heads, trying to figure out why I'm comparing K-ET to the leader of the United Farm Workers Union).

Bleed that Chavez sound with the angular indie rock buzz that about 100 bands are doing these days and you're getting close to what Kite-Eating Tree is all about. And that last line wasn't a shot, incidentally. There are about a thousand jangular indie bands out there, but only a couple know how to graft a melody to a cacophony of guitars. K-ET has taken a Foo Fighters' approach to the problem, concentrating both on the chord grind and vocals at the same time. These aren't cast-off vocal lines, they sound as if they were actually written alongside the guitar parts (wow, what a concept) instead of made-up after the rest of the song was written.

In fact, K-ET is gonna get pegged as a Foo Fighter's knock-off on first blush because they know how to create a sneering guitar groove, and Hunter's voice is damn good, certainly better than Grohl's by a shitstreak.

There are missteps. The minor drang of "Hollywood Hates You" sounds kinda cheesy and dated, though lyrically, I couldn't agree more. They need to stay as far away from that whole dark-destroyer fuzz guitar thing that Godsmack seems to have re-invented (you certainly don't want any more Godsmack comparisons winding up in your reviews). The pop-bang of "Retrograde" and stream-lined pounding of "Save Your Stares for Strays" are more like it.

---
back to

Posted Feb. 20, 2004. Copyright © 2004 Tim McMahan. All rights reserved.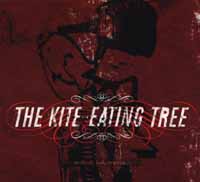 | | |
| --- | --- |
| | Rating: Yes |
| | Obligatory pull-quote: "Hunter's voice is damn good, certainly better than Grohl's by a shitstreak." |
| | |