Bronwyn


Through the Fog, Through the Pines

Guest review by Matt Whipkey

On first listen of Bronwyn's latest on Portland, Oregon's Greyday Productions label, confusion will surely ensue.

The ingredients are all there for a great rock-and-roll record: dueling female vocals, guitar, bass, drums, the occasional cello and other string instruments. Rather than creating inviting music, the instruments present a pure cacophony penetrable by the indie-only listener. Perhaps it's the dissonant and toneless plinky electric guitar at the intro of nearly every song, the math-rock drums pounding uneven time signatures, or the annoyingly off-key female vocals that make this album one aching listen.

Songs such as "Ten Billion Remote Controls" start off with a jangly melodic guitar, then suddenly Bronwyn goes out off its way to ruin a melody with dissonance vocals and poor drumming. The thin production serves the thin music quite well, creating a cold and unwelcoming atmosphere that will turn anyone with an ear for melody away.

Despite Bronwyn's gaining popularity in the Portland scene, they remind me of a type of band that, once someone else starts liking them, will get the cold shoulder from their ardent "indie" followers. That's not necessarily a bad thing. Music this unmelodic shouldn't be attracting fans, anyway.

---
back to

Posted Nov. 1, 2003. Copyright © 2003 Tim McMahan. All rights reserved.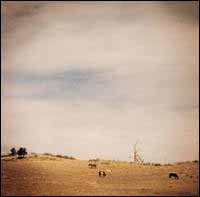 Rating: No

Obligatory pull-quote: "Rather than creating inviting music, the instruments present a pure cacophony penetrable by the indie-only listener."

Tim Sez:

I could never get past the atonal vocals, that have all the charm of Indian chanting. You get the sense that the vocalists were told to put something over the top of the already finished instrumental tracks -- doesn't really matter if has a melody or not, just sing something. Grating.

Rating: No