Hannah Marcus


Desert Farmers

This New York songstress is no folkie, unless you consider Red House Painters or Mark Eitzel coffee shop fodder, which I don't. Marcus is cut from the same dark-blue bolt of cloth as those spinners of ennui, presenting solemn, quiet acoustic numbers that are comfortable sprawling long past the length of a typical folk song.

Chiming piano chords open the the CD's centerpiece, "Hairdresser in Taos," keeping time beneath Marcus's Patty Smith-meets-Lisa Germano vocals, until the rest of the players enter in strict waltz time. She tells us about her eyes burning with red hair dye, running away, leaving him her only copy of Blonde on Blonde, confessing 'Lord if only I could find a road, I'd take it.' From there it builds again for the last third of the 9-plus-minute midnight opus.

Though backed by God Speed You Black Emporer's Thierry on double bass and Efrim on guitar, and joined by the occasional drum and horn, it's Marcus who provides the bulk of the instrumentation -- guitar, piano, harmonium, vibes and voice. Her music is artful and reflective, poetic, and at the same time, poised with the assurance of a woman telling her life story beneath a single-spotlight, in front of an audience transfixed only by her voice.

---
back to

Posted Feb. 5, 2004. Copyright © 2004 Tim McMahan. All rights reserved.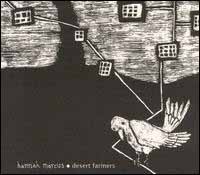 | | |
| --- | --- |
| | Rating: Yes |
| | Obligatory pull-quote: "Her music is artful and reflective, poetic..." |
| | |