Azure Ray

Hold On Love

Saddle Creek

It's more of the same from the duo of Orenda Fink and Maria Taylor, the angel-voiced whisper-singers once of Athens now of Omaha, nuzzling their sweet heads deep inside the heartache oeuvre of Saddle Creek Records. Fans of their earlier work will recognize the hushed, aching, beautiful songs about loneliness, despair and loss. But where once there was an inkling of hope, there is now uncertainty and a sense of quiet failure. A dark cloak of regret and self-doubt is draped over everything, like going to a funeral for an old friend you always meant to get in touch with, but never seemed to find the time.

Songs like the pretty (yes, pretty) "Look to Me" feel like a cry for help from someone lost in emotional turmoil. The sober, next-day longing of "The Drinks We Drank Last Night" is laced with convenient denial: "If you see these tears in my eyes / It's just the wind that makes me cry." The baroque, 6/8 husher "Sea of Doubts" sums it up with the confession "The pain I feel deep inside / That haunts us all that we will die / Never really knowing how it feels / To be alive," breathed by the duo in perfect harmony.

After awhile it becomes hard not to read your own backstory into their heartwrenching lyrics. On "Across the Ocean," which opens with the same painful, wonderful piano tone as Neil Young's "After the Goldrush," we get this line, delivered with a double-scoop of empathy, "Now I've landed in the Midwest / Where you lived so long ago / Remember I was always freezing / And now I'm covered up in snow." Talk about regret.

Musically, the duo has extended their sound from straight acoustic guitar/piano to trip-hop beats and intricate arrangements sporting puffy-cloud orchestration. The result is a broad sonic array that is lacking from earlier Azure Ray efforts. Despite that, though, the core appeal remains the duo's always intertwined vocals, as close to one voice as you'll get from two people.

---
back to

Posted Oct. 25, 2003. Copyright © 2003 Tim McMahan. All rights reserved.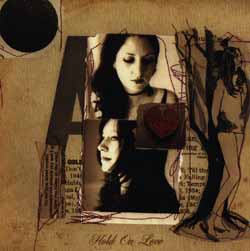 | | |
| --- | --- |
| | Rating: Yes |
| | Obligatory pull-quote: "A dark cloak of regret and self-doubt is draped over everything, like going to a funeral for an old friend you always meant to get in touch with, but never seemed to find the time" |
| | |