Lisboa/Kid Brother Collective


split EP

Guest review by Doug Kabourek

The first three tracks on this six-song split carry the record. The split teams Detroit's Lisboa with Flint's Kid Brother Collective, and while Lisboa brings three great pop-punk tunes to the table, the latter offers outtakes and an alternate version to fulfill their end of the deal.

Lisboa's songs are like a pop-punk version of Centro-Matic with synths and programmed beats. "Necessary Evelyn" takes its riff from "What I Like About You," and makes it their own. "Regicide Solution" reminded me of a Green Day song I hate, but comes through delivering much more than Billie Joe ever could, complete with a huge "NA NA NA NA" chorus. The real gem is "L'Empire Des Lumieres," a complicated instrumental reminiscent of Peter Gabriel, complete with plucked strings and beeping electronics.

Kid Brother Collective's tracks, two never-released songs from the Never Trust Yourself sessions and an acoustic number, aren't nearly as strong as Lisboa's, but that doesn't mean the band isn't good. "Home is a Pen" starts off tough, repeating a lead melody over a changing chord structure. It doesn't live up to its entrance thanks to a weak chorus. The acoustic "The Small of Her Back" is their strongest song, with a nice chorus melody. Overall, a great introduction to Lisboa while offering something extra for Kid Brother Collective fans.

---
back to

Posted Dec. 10, 2002. Copyright © 2002 Tim McMahan. All rights reserved.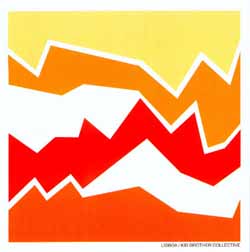 Rating: Yes

Obligatory pull-quote: "...A great introduction to Lisboa while offering something extra for Kid Brother Collective fans."

Tim Sez:

Doug obviously liked this a lot more than I did... derivative pop-punk with nothing new to add to an already tired genre.

Rating: No