Adam Richman


Patience and Science

Songs like second track, "Suck It Up," try to meld early Bob Mould riffage with Richman's Guster-esque vocals and rhythms, which means this is a pop record that's trying to rock and, for the most part, succeeds. Richman's earnest whine can get close to precocious at times, but the clean rhythm section keeps it pumping ahead in classic indie (pop) rock fashion.

Richman's lyrics are the same old boy/girl relationship bleatings that don't add much to the discussion. Track "Mary-Ann" is Richman's H&O "Rich Girl" with lines like "Mary-Ann shows up wasted at my door / Mary-Ann takes my bed leaves me the floor / Mary-Ann you're such a whore." Okay, we get it already. Despite trite lyrics, the CD holds up on its hooks, riffs and that clean, crisp rhythm section. It's summer rock, it's kinda cheesy, and it's a step down from Guster, but it'll do.
---
back to

Posted July 15, 2005. Copyright © 2005 Tim McMahan. All rights reserved.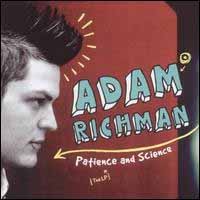 | | |
| --- | --- |
| | Rating: Yes |
| | Obligatory pull-quote: "Richman's earnest whine can get close to precocious at times, but the clean rhythm section keeps it pumping ahead in classic indie (pop) rock fashion. " |
| | |