The Sister Maria

Topekamericana




His Thom Yorke vocal stylings are impossible to ignore, especially on "Townspapre" and "The Bells of St. John," which have that same lilting, end-of-the-world stare that Radiohead emotes on their catalog of downlow numbers. As long as we're all on the same page about the vocal thing, the instrumental part is, for the most part, only vaguely like RH. Instead of electronics, we get acoustics as in piano and guitar and handclaps and bells. Sometimes there is a compulsion to add electronic sound effects, maybe in an effort to make it even more Radiohead-like, but I doubt it.

The Sister in charge, Topeka's Martinez Hillard, has a knack for finding simple, splendid, laidback pop melodies. Despite the first-rate recording quality, it would be easy to cast this aside as too simplistic, especially when you consider that it's basically a demo. The Beatlesque (in a Paul sort of way) "Looking for a Dinner Date" is Hillard pounding out a 4/4 on a piano for five and a half minutes while someone plays with a synthesizer in the background (in an OK Computer sort of way). And when he stretches out over eight minutes, he manages to find his groove.

There is something rustic and relevant in everything he does, as if that Topeka dust has gotten into his veins. Get out of Kansas, my friend. Get out of Kansas and see the world.
---
back to

Posted Aug. 5, 2003. Copyright © 2003 Tim McMahan. All rights reserved.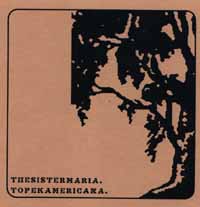 | | |
| --- | --- |
| | Rating: Yes |
| | Obligatory pull-quote: "There is something rustic and relevant in everything he does, as if that Topeka dust has gotten into his veins." |
| | |