From that standpoint, 311's concert in the park is a homecoming of sorts to a city the band has never forgotten. Hexum, who owns a house in the posh Hollywood Hills, visits his birthplace two or three times a year including Christmastime. The band had requested a Memorial Park concert years earlier, but was turned down by the city. Then out of the blue, 311 received a letter from Mayor Mike Fahey in care of Hexum's father, who works at the University of Nebraska Medical Center, inviting them to do Friday's show as part of Omaha's 150th birthday celebration.
"We said we'd love to do it," Hexum said. "The crowd won't be our normal audience of hardcore fans. We'll make it more of a show that'll be appropriate for all ages. People shouldn't be worried about bringing young kids. We know we have a reputation among some people as being bad boys, but this night will be an all-inclusive engagement."
Bad boys or good, the band has a rep as hit makers. In addition to Hexum on guitars and vocals, 311 includes fellow Omaha natives S.A. Martinez, who shares the vocal chores, guitarist Tim Mahoney, bassist P-Nut, and drummer Chad Sexton. Formed in 1990, the band quickly garnered a large Omaha following thanks to their high-energy, beat-heavy sound that doesn't encourage -- but demands -- listeners to jump up and down. 311 shows weren't rock concerts, they were sweaty mosh parties where entire crowds bounced to the beat as if on trampolines.
But despite their strong Omaha following, the band packed up and moved to Los Angeles in '92. Ironically, when Capricorn Records showed interest in signing 311, it was their Omaha fan base that sealed the deal.
"Moving to LA didn't get us signed," Hexum said. "When record companies wanted to see us play, we went back to Omaha because we didn't have fans here. Nothing about Los Angeles got us signed, it just strengthened our commitment to music. We were going 'all for one and one for all,' and practiced every single day. It made us better musicians. Only one label was interested in us, and they turned out to sign us. Without Capricorn (Records), the story would be different, but we never entertained the idea of moving back."
311's aggressive stance early on wound up being construed as arrogance among some back home in Omaha. The headline for one article written about them back in '93 summed it up this way: "Sometimes It Pays to Be Assholes." Hexum addressed the band's rep in that story, saying "Folks in Omaha have been great supporting us, but we've been faced with a lot of assholes, too - bands downtown who really wanted to keep us out. We were viewed as young upstarts. People accused us of having such a bad attitude. The fact is, without it, we wouldn't have a chance in hell in Los Angeles."
Hexum laughed when the quote was read back to him. "I think I was using hyperbole to say it like that," he said. "But the music business is so full of disappointment. You have to believe in yourself and have the self-confidence to withstand the constant rejection and be ready to go for more. A lot of people can't get through that. We had to have a strong sense of band self-esteem to convince someone to sign us, and I do think there's a certain attitude and confidence you need just to be a performer.
"I remember that article and that whole reputation thing. It's funny to think that we were once viewed that way. Today, everyone is like, 'These are the nicest guys in the music business.' We know that we're blessed and lucky to be doing what we do, and we let people know that. Back then, we felt we needed to be more outspoken to the point of obnoxiousness."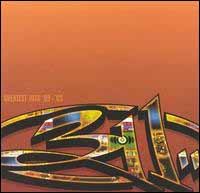 ---

"Back then, we felt we needed to be more outspoken to the point of obnoxiousness."

---